Jewel Bonanza Slot – Gold Fever at Stake Casino
Stake and Pragmatic Play have put together another hit with Jewel Bonanza, the Enhanced RTP version of Gems Bonanza. Like the original, you're looking at an action packed grid slot with incredible special features. The main difference between the two is that Jewel Bonanza has an improved RTP at 98%. Everything else, from the Cluster Pay mechanics, multipliers after the Tumbles to the rich visuals are pretty much everything you already know and love. If you like Gems Bonanza, you'll be right at home with this one you can go ahead to the Stake site and give it a try.
Should you on the other hand be unfamiliar with Gems Bonanza, then this Jewel Bonanza review will walk you through the details. In short, it's a high volatility slot that plays on an 8×8 grid with a 11,817x max win. This is a Stake exclusive, which means you can only play at Stake Casino. As with all slots at Stake, you can play it for free in fun mode.
How the Jewel Bonanza Game Works
First things first. What's really special about this game is that it is an Enhanced RTP slot. These enhanced slots are the result of a partnership between Stake and Pragmatic Play. The idea is that the most popular slots from Pragmatic are made extra shiny with an increased RTP up to 98%. The rest of the game is more or less the same, because it's already a proven success. So if you're looking to slots with high RTP, then Jewel Bonanza, like all the Enhanced RTP slots, has a 98% RTP and should be on your radar.
Other Enhanced RTP slots include The Dog Mansion Megaways, which is obviously a take on the Dog House. These slots don't try to be something new. They're just more of what players love, with a little bit more boost on payout probabilities.
If you have plans for any real money gambling with Jewel Bonanza, then you are going to need some crypto. That's because you can only play it at Stake and Stake is a crypto only casino. Bitcoin, ETH, Doge and many other digital coins are accepted, or alternatively you can buy some directly at Stake via the Moonpay gateway there. As for the game itself, you'll find it in the Enhanced RTP section in the Stake Casino menu.
As for how to play, the very basics include a min bet sized at $0.20 and a max bet at $1,000. Pretty standard. There is an additional Bonus Buy option which we'll cover in the bonus features section.
Things look pretty busy with its 8 x 8 grid, but it couldn't be any simpler because there are no paylines. It's a Cluster Pays game where you just need 5 or more of the same symbols touching each other to pay. This will be followed by a Tumble mechanic, which will then be followed by extra special features.
Jewel Bonanza Payout
Since the RTP is the main difference between Jewel Bonanza and Gems Bonanza, you're probably going to want to know what the actual payout looks like. Below is the paytable for Jewel Bonanza. You will need at least 5 matching symbols before the coins start coming in.
| | | |
| --- | --- | --- |
| Symbol | Minimum payout | Maximum payout |
| | x1 | x1,000 |
| | x0.5 | x500 |
| | x0.3 | x300 |
| | x0.25 | x150 |
| | x0.2 | x100 |
| | x0.15 | x75 |
| | x0.1 | x50 |
Jewel Bonanza Bonus Features
Players love Gems Bonanza for all the incredible special features and it seems like there is always something hitting. And you get all of this in Jewel Bonanza too.

---
➥ Tumble

You'll often find a Tumble feature going hand in hand with a Cluster Pays mechanic. No exception with Jewel Bonanza. After every win, the symbols in the winning cluster will be erased, with everything else tumbling into place to make room for new symbols. Tumbles only end when you stop having winning clusters.
---
➥ Modifiers

Sometimes there is a glowing symbol on the grid, and if you have a winning symbol on top of this glow, then it can trigger one of the following 5 special features. Which feature is triggered depends on the color of the glow.

Blue Nuclear Bonus: After the Tumble wins have been paid out, all the symbols will be cleared to give you a completely fresh set of symbols.
Pink Wild Gem Bonus: One symbol will randomly transformed into a Wild after the Tumble ends, and all instances of that symbol on screen will also turn into a Wild.
Brown Squares Bonus: After the Tumble finishes, a square 2×2 block comprised of the same symbols will be put on a random position on the grid.
Red Colossal Bonus: Symbols Like the Brown Square Bonus, except the square block can be 3×3, 4×4 or 5×5.
Green Lucky Wilds: After the Tumble stops, 5 to 15 Wilds are randomly added to the Screen.
➥ Gold Fever Progressive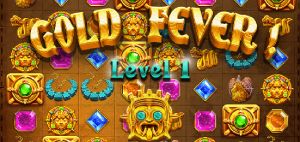 During a Tumble, all your winning symbols are collected in the Gold Fever Meter, which is reset at the end of each Tumble. Should you manage to collect a minimum of 114 symbols, you will unlock the Gold Fever Progressive bonus round. The Gold Fever round has 5 levels. During each level, you will get to play all the colored modifiers in order once, along with a multiplier that starts at 2x. You move onto the next level if you collect sufficient symbols. The levels, their respective symbol requirements and multipliers are as follows:
Level 1: 114 symbols, 2x multiplier
Level 2: 116 symbols, 4x multiplier
Level 3: 120 symbols, 6x multiplier
Level 4: 125 symbols, 8x multiplier
Level 5: 132 symbols, 10x multiplier
---
➥ Bonus Buy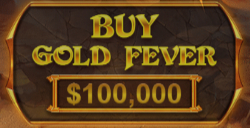 As with many Pragmatic Play slots, there's a bonus buy option. In Jewel Bonanza, the offer here is that you can enter the Golden Fever round immediately for the price of 100x your bet size.
Is there a Jewel Bonanza Strategy?
When it comes to strategy, we get asked about the bonus buy option a lot. So when it comes to the bonus buy option in Jewel Bonanza, things feel a little bit different than usual. That's because it's not so easy to collect 114 symbols in a single Tumble sequence. And even though the game has tons going on all the time and is a pretty exciting, there's really no other way to unlock that Golden Fever feature, which does come with some loaded goodies.
So if you are dead set on this one, it might be worth the 100x price. But again, it's not cheap, and you only have 5 guaranteed spins in there – the rest is about hoping for wins and tumbles. It's a splurge, but it's the ticket price if you feel this is a must see. Whether you feel it's a must depends on you, and it is of course possible to unlock the Golden Fever with a dash of luck.
As for whether the higher RTP affects things. Well, yes a higher RTP does affect a game's payout but this is a theoretical rate. Because the game is truly random, there can be no guarantee as to when you will see a win. So we would play as you normally would and be conscious of your budget.
The Stakefans' Take on Jewel Bonanza
Jewel Bonanza is an awesome set of reels. There is literally always something going on, since the Tumble win mechanic gets juiced up with 5 different modifiers. The Golden Fever Progressive feature is really something special as it'll give you all those modifiers along with a multiplier to boot. We do have to admit that the Golden Fever was pretty elusive when we test played the slot though.
And of course, how could we not mention that Jewel Bonanza is an Enhanced RTP slot with a 98% RTP bases on Gems Bonanza. The 1.5% increase is RTP is not something that you would necessarily feel right away, but if you're an advanced gambler playing for the long run, then this is certainly an advantage. We're happy to see this extra action added to Stake, and you should definitely take a look at this set of jewels for yourself!
Article:
Jewel Bonanza Slot – Gold Fever at Stake Casino
Stakefans.com