Stake Mines – An Explosive Original
One of the things we love most about Stake casino is its long list of original games. And not simply any old games, these are all awesome, unique games that you can play with cryptocurrencies like Bitcoin.
While games like Stake Dice, HiLo, and Plinko are always fun, the top two picks many players list from the roster are Crash and Mines. If you want to read more about Crash, definitely have a look at that article too. But for now, let's talk about Mines. If you've already had a peak at the Mines game, it's possible it may look rather familiar. If so, that is because Mines is based on the good old Minesweeper video game.
The concept of Mines is fairly simple and the basics aren't what we'd call complicated either. More accurately, playing Mines is very easy.  We are sure you will completely get the hang of it within a round or two. That being said, you need to prep yourself mentally, especially in terms of your budget and what kind of risks and results you're looking for, to know when to cash out.
As for who Mines appeals to, we're pretty sure gamblers of all levels – new and old, high rollers and the risk averse alike – will enjoy this crypto game, which has no special skills required.
How to Play the Stake Crypto Game Mines
The best way to learn how to play any online casino game is to try it out for yourself. That being said, we understand that some players like a quick walkthrough first – which is what we're here to do.

To get started, you'll of course need a Stake casino account. We're assuming you already have one. If not, what are you waiting for? It's time to join for free and get in on all the fun. Once you've logged in, look for Mines under the 'Originals' category, which is the first one Stake displays.
The purpose of the game is to reveal as many gems in consecutive succession before accidentally setting off a mine, which looks more like a bomb in the game graphics. Alternately, if you feel you're in danger, you can always opt to cash out first. That's the game in a nutshell.
Winnings are calculated by a multiplier. With each correct guess, i.e. gem revealed, the multiplier will increase. In turn, however, the odds of setting off a mine will also increase. And that is the catch. Do you want to play it safe and go for a bigger win? Or are you willing to risk it all and go for the top prize?
Note: If you cash out, your winnings will be paid according to the last recorded multiplier.
Understanding the Mines Game Board
Now that we understand the point of the game, let's have a closer look at the board and the different functions you'll find. So let's begin by looking at the left side of the board, under the 'Manual' tab that is shown when you open the game. The first thing you need to do is enter how much you would like to bet on this round in the 'Bet Amount' field.
Next, choose the number of mines you would like in this game. You can choose to have anywhere from 1 to 24 mines hidden on the board. With 1 mine selected, you will also have 24 gems. With 24 mines chosen, you will only have a single gem.
Why would anyone go for so many mines you might ask? Well, in our opinion, 24 really is too much. That being said, there are people out there who enjoy a seriously risky gamble. That's because the more mines you activate per round, the higher your multiplier, i.e. potential payout.
What you're really juggling here is that zone between your desire for certainty and the level of risk you are willing to take. Which is the best bet, of course, is a question that we cannot answer for you, though usually we recommend for these kinds of games of pure chance to find a happy medium that works for you.
Once you have entered the amount you would like to bet and the number of mines you want on the board, it is now time to begin actual play. To do so, click on the green button labelled 'Bet'. Now is when the real action unfolds. It is time to avert your eyes rightwards to the face down tiles – or cards if you prefer to see them that way – at the heart of the screen.
To begin the round, click on any one of these titles to reveal what is beneath. If you get a gem, your profit potential, i.e. the multiplier, will increase, and you will be able to continue to play and profit even more as the multipliers increase with each good guess. If, however, you detonate a mine, you are out of luck and the round ends. That means all of the money you accumulated thus far for this bet is lost.
While you can work your way through the entire board to get the top prize, if the heat is getting a bit much to take, you can always cash out. To do so, just click on the green 'Cashout' button, and you'll get the profit as calculated from the multiplier associated with your last correct guess.
Mines Max Bet and Max Profits
If you are familiar with other Stake original games like Dice, Plinko or HiLo, you may have noticed that basically, almost all of them have identical betting limits. But since we don't expect you to have memorized these limits it's worth pointing out things like the max bet limits and the maximum profit potential of Mines. For an at-a-glance view, have a look at the chart below for the limits on each crypto currency accepted at Stake, and more.
| Currency | Maximum bet | Maximum prize |
| --- | --- | --- |
| | 100 BTC | 5 BTC |
| | 1,000 ETH | 150 ETH |
| | 3,000 LTC | 300 LTC |
| | 2,000,000 DOGE | 2,000,000 DOGE |
| | 1,000 BCH | 100 BCH |
| | 1,000,000 XRP | 300,000 XRP |
| | 10,000,000 TRX | 1,000,000 TRX |
| | 100,000 EOS | 10,000 EOS |
| | $200,000 | $1,000,000 |
| | €200,000 | €1,000,000 |
As you may have noticed, there's quite some fluctuation in these amounts. Ultimately, the highest profit is 1 million euros or 1 million dollars, or more correctly in Stake's case, the equivalent crypto value.
Playing Mines for Free
When trying a new casino game, many players rightfully want to play if for free first. In fact, we even recommend using the free play option as the perfect way to try a game.
If you login to Stake and find yourself looking for the Mines demo mode, but are bummed because you can't find it, we'll tell you this. Yes, it is true that Mines is not available in demo mode per se. But Mines can still be played for free. All you need to do is leave the 'Bet Amount' field set at 0.00 BTC or 0.00 ETH or whatever currency you're using, choose the number of mines, and click to bet.

You will then be able to enjoy Mines play for free and gain a better understanding of how it works. Needless to say, you won't win anything this way. But you won't lose anything either so it's a pretty good situation for those just starting out.
Since Mines can be played for a mere 1 cent, we're just as likely to recommend that you start with penny bets to get an even better sense of the game. This way you can actually win something, however small it may be.
Special Features of Stake Mines
There are no free spins or free rounds to be won playing Mines. But that doesn't mean it is without any features at all. In addition to giving you good control over your risk and possible rewards, there are some other features of Stake Mines worth pointing out.
Variable Number of Mines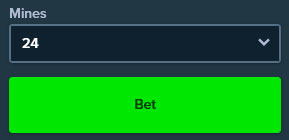 By allowing for a variable number of mines to be added to the board for each round, Stake essentially allows you to choose your odds. So if you want a high volatility game you can choose the big risk of 24 mines on the playing board. If you want low volatility play, that is more wins more often, but for lesser amounts, you can set the number of mines as low as 1.
Like we said above, it's probably best for most players to find a middle ground – though it is ultimately up to you to define what that means.
Pick Random Tile

Want to add even more randomness to the results? Or have someone else make a choice for you? Then you can simply click on the button 'Pick random tile' as you play. You can do this once, or throughout the entire round. There's really no difference in terms of the outcome as far as we can tell, but it's always nice having different options to spice up game play.
Cash Out at Any Time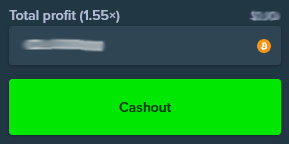 Another neat feature of the Mines game is its built-in escape clause. For example, you set the number of mines at 12 according to the level of risk and wins you'd like. However, after a string of 6 correct guesses, you feel like you've won enough. What can you do? Well, in Mines you can actually opt to cash out at any time after your first selection – and take your winnings with you. The winnings are calculated based on the last multiplier you received. In other words, you can cut the round short and still profit! How awesome is that?

Tip:
While it can be fun going for the ultimate prize, don't feel bad if you want to cash out before the end. Practicing a little modesty and collecting reasonable sized prizes can be the best way to profit over the long run.
Is Mines different from Windows Minesweeper?
Basically, the crypto game Mines follows the same concept as the old school Minesweeper game. While Minesweeper was really just about passing the time, the Stake original version of Mines is about much more. The main difference is that crypto Mines can quickly pay off financially – provided that you have good intuition and perseverance.
In addition, different betting options in the Stake version create multiple levels of tension beyond that of the Windows classic. Of course, that being said, both games have one thing in common, and that is that they are always highly explosive!
In Which Currencies Can Stake Mines Be Played?
As you can see in the betting and profits chart above, this blockchain-based casual game can actually be played with all of the top cryptos available on the market today. These include Bitcoin, Bitcoin Cash, Ethereum, Litecoin, and more.

You can also change the betting view when playing Mines, or any of Stake's other crypto casino games, so that the value is shown in dollars, euros, yen, or other fiat currencies. This helps make the calculation of stakes and winnings easier. But remember, it is solely for your convenience. When you go to deposit or cash out, only the 8 cryptocurrencies offered will work.
Can Beginners Play Mines?
"Do I have to be a mining expert or a bomb diffuser to play mines?", you might ask. And our answer is – no, definitely not. In fact, it takes more nerve than skills to play Mines, as this game is really predominantly all about luck.
If you're a beginner and feeling a bit hesitant, it might be a good idea to play a few rounds of Mines for free. But the learning curve is almost non-existent. Once you're comfortable with the concept, there's really little to do besides trust your gut as you make your choices. This simplicity and total randomness are what make Mines so great for casino beginners as much as seasoned pros.

Tip:
If you have a little experience, you can switch to auto play if you'd like. This brings even more speed to the already fast-paced Mines game. Venturing over to auto mode of course is not a must. Rather it is a nice convenience when you want to have your hands free to do other things, without foregoing the chances of winning.
Which Mines Strategy Is Best?
As much as we would like to name the recipe for success, there is simply no ultimate winning strategy for Mines. After all, where the mines are hiding cannot be predicted, nor can it be determined using any type of calculation. The random number generator completely shuffles the playing field every round. All that remains to do is to try your luck and see what happens.
Our Final Assessment of Stake Mines
Anyone who misses – or completely missed out on – the good old Minesweeper times will be happy to find the pumped up Stake version of the game. The entertainment element is so high, that the profits in BTC and other crypto currencies are almost a minor matter.
It's fast. It's fun. And if luck is on your side, Mines can also earn you some nice profits. Bottom line, it's a real winner, and a stand out selection, even amongst all the other excellent Stake original games.
"An original casino game built on a classic video game concept already familiar to many players, Mines is one of our favorites, by far."
Article:
Stake Mines – An Explosive Original
Stakefans.com