Stake Dice – The Strategy Dice Game
The name of the game seems simple enough. Dice. What could it be? Well, if you've yet to play the Stakes original game Dice, it's actually quite different than one might imagine.
While this game sort of uses a die, it's not the one you're used to from other dice games like craps. That is, there is no six sided cube with dots representing the numbers 1 through 6. There is, however, a cube, that is virtually thrown, but in essence it actually has 100 sides. Or perhaps more accurately, it has no numbers on its sides, rather has 100 places it can land on the board in determining a win.

Dice
Min. bet:
0.00000001 BTC
Max. bet:
100 BTC
Max. prize:
5 BTC
Payout ratio:
95.5% – 99%
Features
Auto Play mode
Dice at Stake
Play now!
Sounds complicated? We assure you, it's not! In fact, crypto dice from Stakes – much like Mines, HiLo, and Plinko – is a really easy game to master. And once you do, it is about as engaging as they come. With clear odds and a small element of strategy, let's explore what Stake Dice is all about.
How the Stake Crypto Game Dice Works
Digging a little deeper, to get started it's important to understand how the game mechanics work. If you'd like, now is the time to log in to your Stake account and open up the Dice game so we can walk you through. Or if you prefer, simply keep reading and have a look at the screenshots we've included, which will make it just as clear.
So here goes. There are three parts to your screen once you open the game. To the left you will find the field 'Bet Amount' where you enter the amount you would like to wager on the round. For example, if you have BTC set for your account, you would enter an amount in Bitcoin anywhere from the minimum of 0.00000001 BTC up to the maximum bet of 100 BTC.
When you enter this amount, you will see that the field directly under, labelled 'Profit on Win' will auto adjust, to show the maximum amount you can win on this roll. Now move your eyes right and you will see two things. On the top half of the screen is a line representing the numbers 0 through 100. Move the little arrow along the line to set your bet. Numbers below this amount will then be in the red, while numbers above are green.

The goal of the game is that the dice will land in the green section of this line after you click "Bet". For example, if you chose the number 50, you would want it to land anywhere from 51 to 100.
Now look below this line and you will see three fields. 'Multiplier', 'Roll over', and 'Win Chance'. Just to clarify, the roll over is the number you have selected on the board. The more area you leave green, the lower your multiplier will be. That's because your odds of winning are directly increased. This is the toss up in your choice. Do you want to go for higher odds or higher prizes? And that's really about it. Easy right?
How to Bet on Dice
While actual game play is easy, there is some effort required in betting. Or more accurately, choosing how you would like to bet. For example, you may be of the slow and steady mindset and want to choose a high-odds (94% to be precise) roll over number like 6. But keep in mind, in this case the multiplier would be just 1.0532X, with a minuscule profit to win.
If you were to choose 67 as your roll over, the multiplier jumps to 3X, while your odds drop to 33%. You get the point. This means you need to keep an eye on three factors each time you are betting. The absolute amount you would like to wager, the odds you would like, and the level of prize money you desire.

Also to note:
Although you can only bet on whole numbers, Dice actually throws decimals as well. This makes the range of wins even wider than it initially appears to be.
---
Dice Betting Limits and Max Wins
Dice, like all Stake original games, has both minimum and maximum limits for bets. The minimum bet being the lowest decimal available, while the highest bet you can see in the chart below.
Max wins, to clarify, are actually max profits, and are a reflection of multipliers. Keep in mind, the equation differs a bit between different currencies as well as your bet amount. Again, as you can see in the chart.
| Currency | Maximum bet | Maximum prize |
| --- | --- | --- |
| | 100 BTC | 5 BTC |
| | 1,000 ETH | 150 ETH |
| | 3,000 LTC | 300 LTC |
| | 2,000,000 DOGE | 2,000,000 DOGE |
| | 1,000 BCH | 100 BCH |
| | 1,000,000 XRP | 300,000 XRP |
| | 10,000,000 TRX | 1,000,000 TRX |
| | 100,000 EOS | 10,000 EOS |
| | $200,000 | $1,000,000 |
| | €200,000 | €1,000,000 |
Since Stake is a crypto casino, we've included all of the 8 digital coins it accepts in the chart, as well as the two predominant fiats – USD and EUR. Just remember, however, that the latter two are equivalent values. That is, your bank transactions will ultimately be done in crypto, and these are just an indication of the value. If you have a different currency you're interested in seeing, you can always look in the game info section, accessible from the cog icon in the lower left corner of the game screen.
Can I Play Dice for Free?
At first glance, no demo version of the Stake Dice game is visible, nor will you see a link for free play. But rest assured, you absolutely can play Dice for free. In order to do so, just keep your wagering amount at 0.00 and adjust any of the other parameters according to how you'd like to bet. This way you can play around with the odds, and see for yourself what it's like to play Stake Dice.
Once you've got the hang of it, you can move on to real money wagers, so you can enjoy the true thrill of the game, and hopefully, get a taste of the cash prizes. In our opinion, it can be well worth a wager of at least a few MBTC – or any another cryptocurrency – to get a true impression of the game. That's because, while there certainly is a time and a place for free play, we love the extra adrenaline rush of real money gambling. What can we say?
"StakeFans should be able to spare at least 1 cent to get a real feel for the game, and experience actual success. While an exciting payoff can be perceived as relative, at least one thing is certain: high profits are definitely possible when you play Dice."
Special Features of Stake Dice
Of course, crypto games cannot be compared to slots. There are no free rounds or bonus functions here. The great appeal, after all, is really the adjustment of odds and the simplicity of play.
That being said, Stake has opted for a few little extra functions that are worth pointing out. They not only create more excitement, but also make automated winnings easier.
---
➥ Various Autobet Settings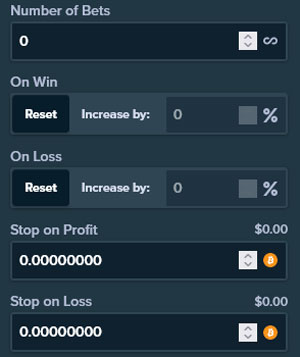 If you've been around the online gambling world, then you're probably well familiar with the concept of auto play. Dice also has this, and on steroids. That is, from our vast experience, Dice has one of the most sophisticated auto play setups we've ever seen, with a whole lot of variables you can adjust.
In addition to setting the fields 'Bet Amount' and 'Number of Bets' – being how many rounds you want to automatically play, you can increase your bet amount by a given percent on any win, or any loss. Plus, you can set the auto bet to 'Stop on Profit' or 'Stop on Loss' by entering your winning goal in the former, or the maximum you're willing to lose in the latter. Together, these commands give you the ultimate control alongside the convenience of auto play.
---
➥ Provably Fair Outcomes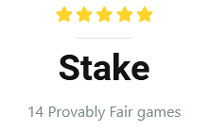 Dice, like all Stake originals and Bitcoin games, is provably fair. So if you want to check the payout rates and winning percentages in detail, Stake.com will be happy to generate appropriate codes. This way you can check for yourself and ensure that no cheating has taken place, that the outcomes are not in any way manipulated, and that all results are indeed totally random.
---
➥ Live Stats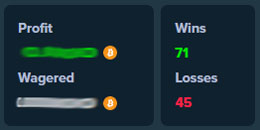 Wondering how you're doing while you play? You can always get a clear picture by clicking on the third icon in the bottom left corner of the game, where it's written 'Open Live Stats' when you scroll over. Things you can see here include your total in terms of profit, wins, losses, and amount wagered.
---
Is Stake Dice a Classic Dice Game?
As you've probably figured out from just reading this review, Stake Dice is not entirely your typical dice game. The main difference is, as mentioned above, that the die itself does not have the six numbers you're familiar with. So the concept behind the crypto game is very different from what many would expect.
It is not, however, so far off from what you might expect in a simple dice game in that it is about the randomness of a roll versus your predictions. Basically, you don't have to do anything more than guess whether the number rolled will land in the green area above the value you selected.
So what does that mean in terms of being a classic? Despite intensive research, the team at StakeFans isn't aware of any other game using a die that can be directly compared with Dice. That means you can speak of a unique item here. That being said, since Dice is so awesome, and growing in popularity, it may well be on its way to becoming a classic casino game in its own right.
In Which Currencies Can Stake Dice Be Played?
One of the main reasons we love Stake so much is because it is the best crypto casino around. Which means that all Stake games can be played in crypto wagers for cryptocurrency wins. As such you, can bet on Stake Dice in Bitcoin, Ethereum, Dogecoin, or any of the other digital coins we mentioned in the chart above. And needless to say, you collect your winnings in those coins.

Of course, you can also do your wagering in US dollars, yen, euros, or a long list of other fiat currencies. But remember, that deposits and withdrawals will only be in crypto. If you're betting on Dice in let's say dollars, what you're really seeing is essentially a live value exchange of the currency you hold. Once you go to cash out, you'll be doing so in the cryptocurrency you used to deposit.
Which Dice Strategy Really Works?
When we explained how to play Stake Dice above, we were describing the basics of game play. For many of us, including some of the most experienced gamblers on the StakeFans team, this was plenty.
But there are certainly many players who are really into strategy as well. So we'll just point out that unlike other popular Stake originals like Plinko and Limbo, Dice is packed with strategy options. In fact, they're built into the game. To find them, look in the left navigation where you place your bet. At the top there are three tabs 'Manual', 'Auto' and an icon of arrows. Click the latter.

Keep in mind, however, the popup you'll see when you choose this option states clearly: "These tools are for
experienced players
looking to run advanced strategies. Continue at your own risk". You will then need to opt in by clicking the green button 'I Understand' before you're able to proceed.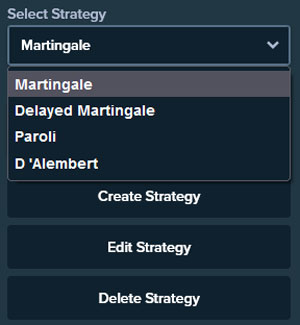 Now after selecting how much you'd like to bet and how many times, you will be able to choose to apply classic roulette strategies to your Dice play. These include Martingale, D 'Alembert, and Paroli. You can also choose the number of 'Conditions' you would like employed, and proceed by clicking the 'Autobet' button.
If you want, you can also create your own strategy and save it for future use. This is pretty cool stuff and definitely has great appeal for the more sophisticated players. But don't feel obliged to use it.
As for which of these Dice strategies is best, everyone has their opinion on the matter, which is why they continue to stand the test of time. In other words, if one was so obviously better than the rest, the others would cease to exist. So it's really up to you which strategy you're most comfortable with.
Is Dice Suitable for Beginners?
With all that being said, you may be wondering if Dice is suitable for beginners. The answer is definitely yes! Like pretty much all Stake crypto games, Dice is extra easy to learn, simple to play, and accepts really low bets, which is especially beneficial to those learning.
Just remember, if you want to use the Dice strategies, you should gain some experience playing Dice first. Also, we recommend familiarizing yourself with the various gambling strategies offered, so that you know what you're getting into. Other than that, Dice gambling should be smooth sailing even for the uninitiated.
Our Final Assessment of Stake Dice

Overall,
we really like Stake Dice
. It's exceptionally simple to play, yet it's extremely engaging –which really is the perfect combo. And since you don't need to internalize any complicated rules, it makes it all the more relaxing. Plus, you have the option of going with your gut instinct, or trying out the Dice strategies. Heck, you can even build your own!
All and all, while not a classic dice game that you'll find in every casino, it's actually a fantastic alternative. And it's one we definitely recommend for those who value quality ingenuity. That is, original casino games, with a nice twist.
---
"As more and more gamblers flock to crypto casinos like Stake, Bitcoin games like Dice are quickly gaining in popularity. In fact, we wouldn't be surprised if we started seeing more copycats of Stake original games. That's because in reality, when someone comes up with a good thing – like the developers at Stake did – others are going to want to get in on the game."
Article:
Stake Dice – The Strategy Dice Game
Stakefans.com