Bison Spirit Slot – Embrace the Wild at Stake Casino!
If you've been following our commentary on Stake enhanced RTP slots, then you know what these great games are all about. Each a slight twist on a popular Pragmatic Play slot, combined with a higher return to player. That's the gist of it, but each machine is in fact glorious in its own distinct way. And what is more magnificent a beast than the dignified giant – in all his glory – gracing the Bison Spirit game!
Stunning and engaging, its slots inspiration, of course, is the Buffalo King machine. And while it may be hard for the uninitiated to tell these two versions apart, there are some ever so slight enhancements, including the game's star. Because if you didn't know (and admittedly we didn't either), the bison and the buffalo are not the same thing – even if many of us use those names interchangeably. But don't worry you don't need to be a vet or a ranger to figure it out. In these games they're differentiated by color, blue and red respectively.
Beyond that, the graphics, we'd say, are slightly refined in the Bison Spirit (less animated, and more realistic), the gameboard and backdrop are entirely familiar, as is the soundtrack, as far as we could tell. Other than that, the rest of the symbols are carried over from the original game, as well as the innovative bonus features. And although neither are a Megaways game, both include the full 4,096 ways to win.
The biggest advantage of Bison Spirit is undeniably the optimized RTP, which is now upped to 98%. And of course, for us StakeFans, the originality factor, as you guessed it, this game is only available at our top pick casino Stake. That's really all there is to know from our perspective. Especially since you can play it for free. But if you'd like a bit more background before joining the stampede to try this new game, then feel free to keep on reading – because we've got all the nitty-gritty details below.
How the Bison Spirit Game Works
The basics of Bison Spirit are identical to those of the Buffalo King template, with both these games played out on 6 reels, without classic paylines. Instead, Pragmatic Play has integrated 4,096 combinations for a cash win.
Winning Combos

To win, at least 3 matching symbols must appear, adjacent to one another, with payouts calculated accordingly from left to right. 6 in a row, of course, pays the highest amount for any given symbol.
Betting Range
The betting range here is nice and flexible (just as we like it), ranging from $0.40 up to a whopping $1,000 in regular game play. True, there are video slots with mere penny wagers accommodated and more high roller potential – like the Lucky Phoenix game in the enhanced RTP series – but the StakeFans team found it to be extremely workable. And an excellent pick for most "regular" budget players.
Fair Play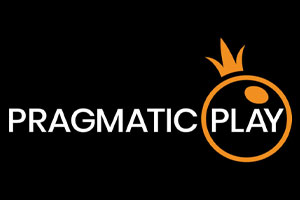 The game of course also has a random number generator (RNG) built in, so it is guaranteed fair. It's a Stake and Pragmatic Play initiative after all, so we wouldn't expect anything less!
Totally Intuitive
Furthermore, all the functions, buttons, and game play are easy to see, and highly intuitive, so even a new player can figure it all out, instantly. Like all Pragmatic Play slots, you can click the 'i' icon in the game's lower left corner to read more about the game rules, main game interface, and how to play, at any time.
Bison Spirit Slot Demo
You don't need to be a rancher, cowboy, or even an outdoors person to enjoy this slot machine, and its vaguely Western theme. But you also don't need to take our word for it. That's because Bison Spirit can be played for free (i.e. in demo mode) right here on the StakeFans website, by clicking the image below. Or if you want, you can get in as many spins for free as you like, directly on the Stake casino website.
Just note, while free play is a great way to experience the general mechanics of the game, there are some subtle differences between that and real money mode. For example, the minimum and maximum bet range differs, as do things like the actual paytable, and some of the available bonus features.
Where to play Bison Spirit Slots
If you REALLY want to experience the full potential of Bison Spirit enhanced RTP slots, then the only place you can do that is at the world's #1 crypto casino, and our personal favorite gambling place, Stake. That's because Bison Spirit is a Stake exclusive, designed by Pragmatic Play especially for the casino, and its awesome players.
So if you were looking for even more reasons to play at Stake – beyond amazingly convenient and user-friendly online crypto gambling – then you can add access to probably the highest number of original and exclusive casino games to be found anywhere on the internet.
Bison Spirit Betting Options and Payout
As for what you can win, this game of course has a full paytable, which you can see for yourself by clicking that aforementioned 'i' info icon when you have Bison Spirit open. There you'll see laid out, each symbol, and exactly how much it pays for 3, 4, 5, or 6 in a row.
Alternately, a quick look at the Bison Spirit paytable below is enough to get a first impression of how the odds of winning work, and what level of payouts are at play.
| | | |
| --- | --- | --- |
| Symbol | Minimum payout | Maximum payout |
| | x2 | x7.5 |
| | x1.5 | x6.25 |
| | x1.5 | x6.25 |
| | x1 | x5 |
| | x1 | x5 |
| | x0.5 | x3 |
| | x0.5 | x3 |
| | x0.25 | x2.5 |
| | x0.25 | x2.5 |
| | x0.25 | x2 |
| | x0.25 | x2 |
Overall, it's fair to say, that this slot doesn't necessarily offer outstandingly high paydays. That is for any given single combination. However, don't forget, in this online slot, there are multiple opportunities to win, in a single round. That is, you can win cash for more than one combination on any given spin – with all of the 4,096 ways to win accounted for therein, individually. And THIS is what can really tally the cash wins up to high totals reaching as much as 30,788X your bet.
Getting there is all dependent on luck, and your bet size of course. But the winning potential of adding those "small" sums up is huge!
Bison Spirit vs Buffalo King
One common question our readers (and Google searchers) ask is: how are Bison Spirit slots different from Buffalo King? And while we already touched on this in the intro (if you were paying attention), it's definitely worth digging into a bit more.
So the long and the short of it, really, is that Bison Spirit, like all enhanced RTP slots at Stake, has a higher RTP than its predecessor. In this case, while Buffalo King has a 96.06% RTP (which is considered solid for slots), Bison Spirit moves that up 1.94 percentage points, coming in at an impressive 98% RTP. That basically means more of the money played on the new version will be paid back out to players – which is certainly something that is always welcome!
True, you might not entirely feel that difference on your own – unless you're a seriously devoted slots fan. But the game has indeed been programmed to pay back more. And thanks to licensing requirements, and the general reputability of both the provider and Stake operator, you can be totally sure this is the way it works.
On a graphical front, the deviations are extremely minor. The only real one is the "star" of these slots, i.e. their highest paying symbols. Which in the case of Bison Spirit is a glowing, fiery blue such animal, while in the Buffalo King original this top symbol is red, and arguably, slightly less fearsome.

Did you know?
While the bison and buffalo are differentiated mostly by color in this pair of slots –
bison being red and buffalo being blue
– there are other distinctions between the two in real life. The buffalo, as it turns out, is actually native to Africa, while bison are North American. In addition, bison have beards, while buffalo are beardless. Bison also have a shoulder hump, while buffalo don't. And bison, if you're really looking at details, also have bigger heads, but smaller horns.
The rest of the symbols, being the eagle, wildcat, wolf, moose and cards Ace through 9, remain the same, for great continuity that links the two games. Just note, in Bison Spirit while the potential prize is still gigantic at 30,788X your bet, that's significantly less than the max 93,750X on the Buffalo King game. However, the improved odds, perhaps, some might say, make up for the difference. Other than that, the 4096 ways to win mechanism remains the same, as much as the free spins feature, and the potential for multipliers.
Bison Spirit Bonus Features
Although Pragmatic Play has remained true to its well-known features in this top slot, for those less familiar we'll do a short review of the potential extras you'll find wrapped into each spin. And they are of course:
---
➥ Wild Symbols and Multipliers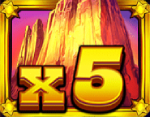 Wild symbols can randomly appear on reels 2 through 6. As usual, their job here is to replace missing symbols to complete winning combinations. In so doing, the wild symbol can replace all symbols, except as usual, the game's bonus (aka scatter) symbol.
During the free spins round, in addition to completing winning combinations, all wilds have a random multiplier. That multiplier can be 2X, 3X, or 5X. If you're so lucky as to land more than one wild in a winning row, your prize will be multiplied by the full amount. That is, a single winning combo can be multiplied more than once. Yay!
---
➥ Free Spins Round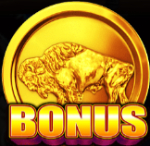 If you're familiar with the Buffalo King free spins round, then you pretty much know the drill here as well. Land as few as 3 bonus symbols anywhere on the reels, and you'll launch into the free spins round. The number of free spins you'll get is determined by how many bonus symbols triggered the round:
3 bonus symbols win you 8 free spins
4 bonus symbols = 15 free spins
5 bonus symbols = 25 free spins
6 bonus symbols = 100 free spins
If you hit 2 or more bonus symbols during free spins play, you'll retrigger the feature for another free spin bonus round, distributed at the rate above. With the exception being that you'll now also get 5 free spins, if it was 2 bonus symbols that re-triggered the feature. In addition to that almost endless free spin fun, as mentioned above, this round also features the potential for some serious multipliers, courtesy of any wilds you land as part of a winning combination.

Good to know:
While free spins are
theoretically infinite
, the max win amount here is not. That means should you be so fortunate as to reap the game's max win 30,788 times your bet amount during bonus play, you'll be returned to regular game play, and forfeit any further free spins that round. Should we all have such problems!
---
➥ Bonus Buy Feature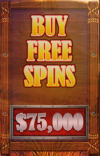 In addition, Bison Spirit has a bonus buy feature. Or, what is officially called buy free spins in the game's precise rules. By paying 75X your current total bet, you can instantly trigger the free spins bonus round, and all the glory that entails. Just how many free spins you'll get when you do, remains as random as always.
And whether or not this will pay off is a matter of fate. But there is some definite appeal to the number of rounds and potential quick succession of wins, should the bonus round go your way. Whether or not that's worth 75X your wager, however, is up to you.

Note:
While not technically related to bonuses,
auto play
is a much sought after feature. So we'll just point out, it's also available here.
---
Is there a Bison Spirit Game Strategy?
Should this all sound great, but you're left wondering "how can I up my game?" the reality is, you can't really. While strategies may be helpful in table games, they can't possibly work in slots. And that's because slots, as we know, are 100% random, with absolutely nothing we can do to impact the outcome.
Sure, some people believe in things like a hot machine, crossing their fingers, or even personal mantras to repeat. And maybe that magically works for them. But as far as we've seen the only thing you can really do, is manage your time, money, and expectations well.
Stake, by the way, lets you set a number of personal limits. Just click on the 'Responsible Gambling' tab onsite, and you'll be able to apply a loss limit or wager limit that works for you – across a daily, weekly, or monthly basis.
That being said, selecting slots with a high RTP makes for a good strategy, as much as you can call it that, or at least we'd say, makes for a good choice with slightly better odds for a win. Hence, in and of itself one might say, choosing Bison Spirit alone is strategy enough.
---

Tip: With its verified random number generator built in, Bison Spirit is safe and fair – which also means bullet proof in terms of anyone being able to impact the game results.
---
Our Assessment of Bison Spirit Slots
By final word of recommendation, we can say, that StakeFans definitely get their money's worth playing Bison Spirit slots. With its large betting range, this Enhanced RTP slot is suitable for both beginners and experienced players alike. The game quality is high, as expected, as after all this is a Pragmatic Play creation. And stylistically it gives a nice subtle twist on its predecessor and inspiration – the Buffalo King machine.
In particular, however, it's the wilds, free spins, multipliers, and ever so many ways to win that give Bison Spirit its real power, in our opinion. And of course, that boosted 98% RTP. All of which can really add up, and if you're lucky, deliver some serious cash wins.
Article:
Bison Spirit Slot – Embrace the Wild at Stake Casino!
Stakefans.com