Stake Crash – Original Game That Combines Speed & Intuition
As a huge draw of the casino – and some would say it's shining star – it's more than likely that most StakeFans know what Crash is about, and how awesome this crypto game can be.
But if you have somehow missed it, or are just getting to know the wonderful world of Stake, we welcome you to take a closer look at this most popular original Stake casino game, with a little help from us of course.

Crash
Min. bet:
0.00000001 BTC
Max. bet:
100 BTC
Max. prize:
5 BTC
Payout ratio:
95.5% – 99%
Features
You can cash out at any time
Crash at Stake
Play now!
When first hearing the name Crash, you, like many other reasonable people may have made a quick association with the stock market, which can feel like casino betting itself at times. And while it's not based on the stock market, there are some similarities between the two.
For example, on the market, a crash is definitely not a good thing, and neither is it in the Crash casino game. So the two have that in common. In addition, while some would say there's some sort of strategy involved in playing the market, for many investors the type of speculation involved in the Crash game is basically the same. That is, it's pretty much a guessing game, at least in terms of when to cash out.
Sound interesting? It is! And for those who've mainly played slot machine games, roulette, or blackjack until now, it opens up a whole new world of online gambling. Plus, like the stock market, Crash casino can actually be really lucrative – if you guess right or know when to cash out that is.

How the Stake Crypto Game Crash Works
Crypto Crash is not quite like playing the stock market, as we've said, and it's not exactly like any classic casino game either. So what is it?
Well, in a nutshell, it is a wildly fun guessing game, played in quick rounds lasting just a few seconds. Even when you're not betting yourself, the live action ticks along continuously. You'll notice this yourself every time you have the game open on your screen. That means you can see each round played out, its results, as well as the bets all other players made on each round at all times.
➜ That's great and entertaining and all you might be thinking. But what is the goal of the game?
If we look at the game board in the center of the screen, it works like this. The game is set up on a simple graph. On the vertical line you can see the multipliers listed. On the horizontal base, the number of seconds that have passed. In the middle, there is a yellow line that moves on an upwards trajectory once a round begins.
Where it stops determines who wins. Basically, you need the line to hit or go above your chosen cash out point in order to win.
And here's a neat thing. If you get cold feet mid-round, this game actually lets you cash out early at the rate of the multiplier shown on screen. That is, you can still win even if you essentially quit.
Just make sure you're paying attention here, because there is no time to dilly dally with your decisions. The action unfolds quickly and rounds are over in a matter of seconds, so you'll need to make this judgement call instantly.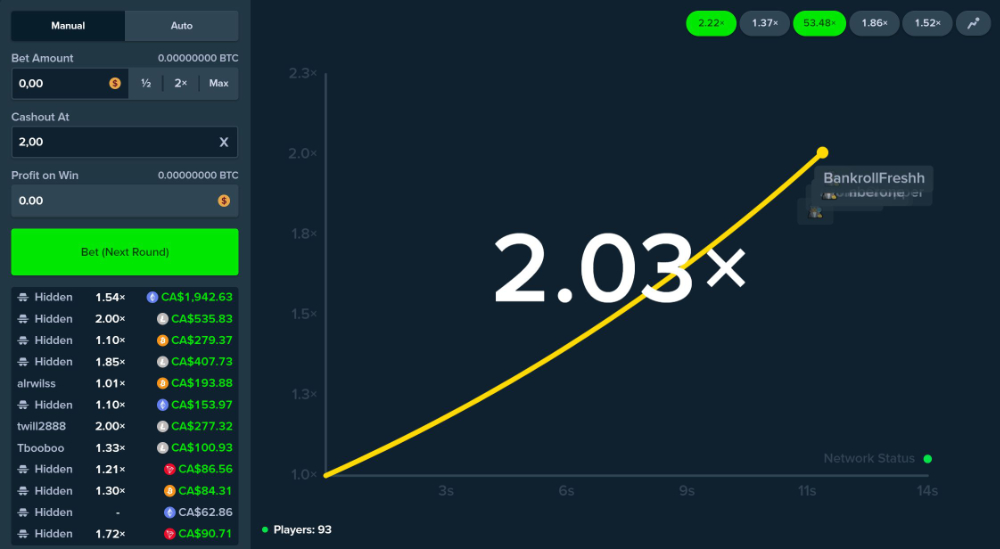 How to Bet on Crash
Now that we understand the goal of the game, let's have a closer look at the basic game functions.
As is the case of all Stake original games, the game controls can be found in the left navigation, alongside the game board. And they're fairly simple to get the hang of.
The first field is called 'Bet Amount', and this is where you enter the sum you would like to wager.
Next, you need to make a selection in the 'Cashout At' field. The number you choose is the point the yellow line will need to climb to, in order to generate a win. Options range from 1.01X upwards, with the maximum crash point being a 1,000,000X multiplier.

The higher the amount you choose, the bigger the prize will be. However, it is more likely that a crash will occur before that point is met. Alternately, if you choose a low cash out point, you will increase your odds of winning, but the prize will be smaller.
Finding the balance between good odds and a reasonable payout is an art. It's part of the fun of this game since it lets you determine your risk level for yourself.
Once you're ready with your bet, it's time to click the 'Bet (Next Round)' button. The reason for next round here is because this is in essence a live game that multiple players are betting on simultaneously. That is opposed to something like online slots or roulette, in which you can launch a round at any time. Don't worry, however, the next round like we said, will be coming around in just a matter of seconds. So brace yourself.
Crash Betting Limits and Max Wins
If you're familiar with other Stake originals, this chart should look familiar. That's because most Stake originals have the same maximum bets and maximum profits associated with them.
In case you can't be bothered to memorize this chart, which is a reasonable assertion, we'll just point out that the game mechanics also show you these limits, letting you know when your 'Bet Amount' is above or below what is allowed. And in kind, the 'Profit on Win' field is automatically adjusted accordingly.
| Currency | Maximum bet | Maximum prize |
| --- | --- | --- |
| | 100 BTC | 5 BTC |
| | 1,000 ETH | 150 ETH |
| | 3,000 LTC | 300 LTC |
| | 2,000,000 DOGE | 2,000,000 DOGE |
| | 1,000 BCH | 100 BCH |
| | 1,000,000 XRP | 300,000 XRP |
| | 10,000,000 TRX | 1,000,000 TRX |
| | 100,000 EOS | 10,000 EOS |
| | $200,000,000 | $1,000,000 |
| | €200,000 | €1,000,000 |
"Wait a minute", some StakeFans might be thinking. "Why should I play a crypto game where the profit is lower than the stakes – apart from the bet amount in specific fiat currencies like euros or US dollars?"
To understand this, one has to distinguish between payout and profit. And also understand the difference between currency values. 💡 For example, anyone who would invest 100 BTC per round – which really, let's be realistic, very few people are likely to do – can walk away with 105 BTC at the end of the round, which is actually a rather high value win.
Is It Possible to Play Crash for Free at Stake?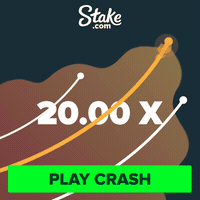 If you're wondering if it's possible to play Crash for free at Stake, then the answer is an absolute, resounding yes! As with all Stake original games, Crash too can be played for free. The question is how – as if you've looked for yourself already, you've likely noticed there is no demo mode to be found.
So here's a tip. That is indeed correct that there is no Crash demo mode available. Instead, in order to play Crash for free, all you need to do is set your 'Bet Amount' to 0.00 BTC or $0.00, or whatever currency you're wagering in.
When you ultimately set the game in action by clicking the button to bet, you will then be able to enjoy all of the real action that Crash constitutes, at zero risk. Or in other words, you will be able to explore the game mechanics, experience the thrills, and get a true feel of the odds and how they're played out before you move on to real money wagers.
Special Features of the Stake Crash
Like we said before, Crash is not an online slot machine and it has little to do with traditional casino entertainment, at least in terms of the rules and gameplay.
But while it doesn't have features like free spins or multi-tiered bonus rounds, it does have some neat little extras that make it all the more engaging and fun.
---
➥ Multi-Player, Live Action Game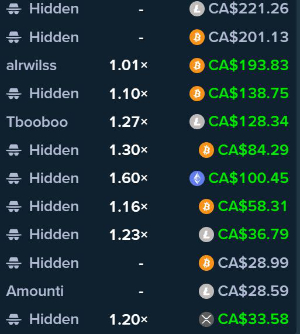 One of the elements we love about blockchain based gambling is the social element. Like how Stake has a chat feature so you can talk with other players.
And the Crash game specifically has another added element of interactivity in that it lets you see the bets being made by each player on every round – including the amount they wagered and if they succeeded.
So if you're a competitive type, and want to beat the crowd as much as the game, you'll certainly love this effect.
Also, since multiple players are betting on each round, this essentially makes Crash a live casino game. That is, each round unfolds in real time at the same time for each and every player, which also ups the excitement ante.
---
➥ Provably Fair Results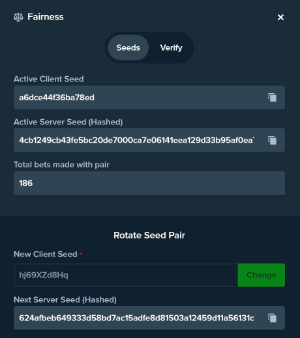 A clear advantage of crypto games compared to slots and classics in fiat casinos is that win rates and payout rates can be traced transparently.
Known as provably fair technology, it was originally perfected for use with Bitcoin gambling, but now works with all bets placed in any other cryptocurrency.
If this is something you want to check out for yourself, just click on the link labelled 'Fairness' in the bottom right corner of the Crash game.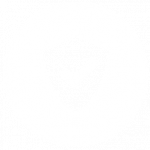 A popup will appear onscreen giving you all the information you need to view the results for yourself, and see how indeed they are 100% fair.
---
➥ Cash Out at Any Time Mid-Round

When traditional casino games like slots or roulette, you place a bet and wait to see where fate falls. There is no place for regret or backing out.
With Crash, however, you not only determine your own odds, by choosing the multiplier you're aiming for, but you can also change your mind at any point mid-round, before losing that is.
Simply click the bright green 'Cashout' button, which replaces the 'Bet' button in the left navigation, once the round has started in order to do so.
If you choose to cash out early, fear not. Not all is lost. In fact, quite the opposite. You will actually win this way. That is, if you cash out in time, you will win the multiplier onscreen at the moment you executed this option.
---
➥ Auto Play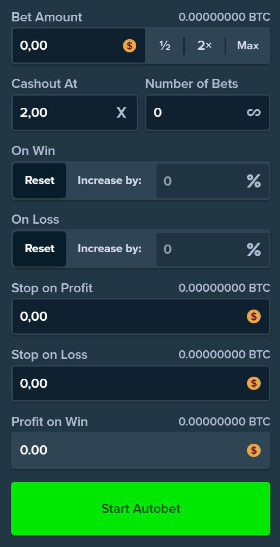 Since there is an option to cash out from Crash mid-round, we don't necessarily recommend auto play for this game. But if you feel differently, note that there is an auto play mode available.
As in other Stake original games with auto play, you can choose your bet amount, the number of rounds you'd like to play in a row. Then you can set fields to auto adjust your bets in Crash according to certain parameters.
➜ For example, you can opt to automatically have your bet increased or decreased based on a win or a loss. You can also have the game automatically stop when you reach a certain profit goal or a certain loss amount. This overrides the number of rounds you pre-set for continuous play.
---
Does Crash Have Anything to Do with Stock Market Prices?
As mentioned in the intro, there is often an association between the Stake Crash game and playing the stock market.
But rest assured, there is absolutely no connection between the two. Certainly not in terms of the prices.
There is, however, a similar vibe, in that both fluctuate wildly, with investment decisions or betting choices often made based entirely on speculation. The adrenaline level can be equally high, as much as the thrill of the wins and losses involved.
The advantage of Stake Crash over the stock market is that you don't have to research prices before making your guess. And with Stake Crash there is no performance history to consider or company valuation to review. You just use your intuition and hope for the best. In other words, we'd say, it's easier.
Which Currencies Can Stake Crash Be Played?
Crash was developed based on blockchain technology and is therefore considered a Bitcoin game, but can be played with other digital currencies as well. These include the additional 7 crypto currencies beyond Bitcoin that Stake accepts for deposits and withdrawals being Litecoin, Dogecoin, TRON, EOS, Ripple, Bitcoin Cash, and Ethereum.

You can also set the money fields that your wagers and wins are shown in to be displayed in the equivalent value in dollars, euros, or whichever local currency you use. The reason for this is essentially convenience. For those with less of a finger on the pulse of the crypto market fluctuations, this saves you from constantly making conversions. Which of course helps you keep better track of your money, bets, and wins.
Are There Any Crash Strategies to Consider?
When it comes to how things will pan out in each Crash round, there is no game strategy to employ, as game results are entirely random.
The strategy for Stake Crash is more about odds, and knowing when to cash out. And this is really something only you can determine for yourself, based on your own budget and appetite for risk.
In general, however, we think a Crash strategy of strong, but safe works best. That means, ideally, you should be working to find a balance between the game odds and game profits available.
➜ For example, if you set your bet at the minimum 1.01X multiplier that almost guarantees a win. But such a win would be a matter of pennies, and not particularly worthwhile. On the other hand, the 1 million times multiplier has a huge prize, but it is virtually impossible to land. We'd say generally any multiplier in the single digits above 2 and up to 10 could be a good bet.
Beyond that there are no special game strategies to recommend. The only thing that really helps here is to simply trust your gut instinct and to budget accordingly. Other than that, we wish you luck!
Is Crash a Beginners Game or a Professional Level Crypto Casino Game?
Crash is definitely charged with tension. That, we'd imagine, is a statement everyone would agree with. And it doesn't matter if you're a first-time Crash player or a seasoned vet. The tension never passes and never grows old. So don't worry if you're just getting started and feel a flush of nerves. This is indeed part of the game!
As for actual skill, while a beginner may take a round or two to get the hang of the game, Crash has a minimal learning curve. You can quickly master the mechanics and understand how the different betting options play out. If you're a Crash beginner, rest assured you will quickly close the gap. You'll find yourself comfortable even amongst the most seasoned players in no time. After all, at the end of the day, Crash is a guessing game. And your guess is as good as anyone's.
Our Final Assessment of Stake Crash
Crash is one of the best crypto games around, if not the best! It's certainly a top pick for many on the StakeFans team. And we constantly hear players rave about it as well.
While there is minimal skill involved, if you want to maximize your wins, full concentration is required. And for us, this is actually the winning combination. The randomness in gambling is always a thrill, while being on your toes gives it an extra element of engagement.
So if you're waiting for our stamp of approval to get going, here it is. Stake Crash makes for an excellent break from casino classics like slots and table games. And in our opinion, it is so great, that it is a casino classic in its own right!
"With minimal bets required to get in on the action, and the option to cashout at any time, the Crash crypto game is ideal for beginners. More experienced players will gain from the exciting features that let you set your own odds, and if you're up for it, bet – and win – big."

Article:
Stake Crash – Original Game That Combines Speed & Intuition
Stakefans.com