Gates of Heaven Slot – A New Take on The Adventures of Zeus
Gates of Heaven is an exclusive slot at Stake Casino developed by Pragmatic Play. If you're looking for exclusive slots with the kind of quality you expect from a first class software provider, then this is it. If the title sounds familiar, you are right. This is actually a re-design of Gates of Olympus, and other than the graphics, the main difference is that the RTP has gone from 96.5% to 98%. It's what they call an Enhanced Slot.
And this extra edge can be a big plus when you're looking at a high volatility slot like Gates of Olympus. Or shall we say, Gates of Heaven. In any case, this is an exclusive partnership between Pragmatic and Stake Casino, and you won't find this game anywhere else. Another reason why we're Stakefans!
In terms of bet size, you're still looking at a starting bet of $0.20. Max payout is at 5,000x. The special features remain the same. Don't worry – if you're not familiar with the original Gates of Olympus, we'll get more into the details of the game play in this Gates of Heaven slot review so we're all on the same page.
How the Gates of Heaven Game Works
First of all, Gates of Heaven is a Stake Exclusive. This means you can only play it at Stake. It's part of Stake's Enhanced RTP slot series, where some of the most popular reels are given what's essentially a new skin and a guaranteed RTP of 98%. So once you're at the Stake website, look at the Game menu on the left side of the screen, scroll down a little until you see "Enhanced RTP". Click on that you'll find Gates of Heaven there, among other slots.
Otherwise, it's pretty much like any other video slot. Start by setting your bet size. Gates of Heaven has a min bet of $0.20 and a max bet of $1000, if you're not using the bonus buy feature. It's set on 6 reels 5 rows, and uses a Clusterpays mechanic, meaning there are no paylines. You need at least 8 matching symbols to win, and the more you have the higher the payout. The exception is the Scatter which starts paying with just 4 symbols.

There's a
Tumble feature
and the godly warrior formerly known as Zeus is the Scatter symbol to unlock free spins, which we cover next.
Gates of Heaven Demo
Gates of Heaven Payout
So you know that with Enhanced RTP slots, the RTP has gone up to 98%. That's all fine, but what does the actual payout in Gates of Heaven look like? We've summarised everything for you in this paytable below, showing what is the minimum and maximum payout per symbol, before multipliers are added.
| | | |
| --- | --- | --- |
| Symbol | Min. Payout | Max. Payout |
| | x10 | x50 |
| | x2.5 | x25 |
| | x2 | x15 |
| | x1.5 | x12 |
| | x1 | x10 |
| | x0.8 | x8 |
| | x0.5 | x5 |
| | x0.4 | x4 |
| | x0.25 | x2 |
Gates of Heaven vs. Gates of Olympus
What's the difference between Gates of Heaven and Gates of Olympus? As we already said, differences are mostly visual, although the game still has that majestic feeling about it designed to inspire and awe. And then there is the higher RTP at 98% instead of 96.5%, and that means your chances of success are 1.5% higher in Gates of Heaven. And at 98%, Gates of Heaven is definitely a slot with a high RTP.
Gates of Heaven Bonus Features
Gates of Heaven has all the bonus features that Gates of Olympus is famous for. And these being:
---
➥ Scatter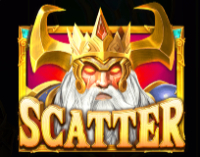 In Gates of Olympus, Zeus was the Scatter. In Gates of Heaven, it's a similarly godly warrior.
The scatter unlocks the Free Spins bonus round and it's the highest value symbol. Payouts begin with only 4 Scatters compared to 8 regular symbols.
➥ Tumble Win
Like it's often the case with Clusterpays mechanics, Gates of Heaven also comes with a Tumble Win feature. Which means after every win, the winning symbols are removed, the remaining ones fall into their new place, and new symbols drop down from the top to fill in the new gaps.
➥ Multipliers
Multipliers can occur in the base game and in the Free Spins bonus round. If there is a tumble win involved, all the multipliers that are spun in the sequence will be added up and applied to your final win.
➥ Free Spins
A round of 15 free spins is unlocked with a minimum of 4 scatters. The round can be retriggered if you spin 3 scatters or more.
➥ Bonus Buy
You can increase your chances of entering the free spins bonus round by using the Ante Bet feature, which increases your bet size by 25%.
---
Is there a Gates of Heaven Strategy?
Ok, Gates of Heaven is an Enhanced Slot with a 98% RTP, and that difference in RTP means something. Now the question is how do you want to use this advantage in gameplay?
A higher RTP means that your odds of a return are higher. When this is applied to a high volatility slot like Gates of Olympus which is famous for high but infrequent wins, your chances just got a little bit better.

One strategy for Gates of Heaven that's worth considering is then placing
a slightly higher bet instead of using the Ante Bet
feature. With an extra 25% price tag, the Ante Bet isn't really what we'd call cheap. And using the increased RTP instead can help you stretch your budget a bit further.
The Stakefans' Take on Gates of Heaven
Draped in new visuals along the same successful theme of Gates of Olympus, Gates of Heaven boasts another differential. And that is a higher RTP as an Enhanced Slot.
To be honest, it's pretty much the same game with all the same features. However, the increased  98% RTP does give your budget a bit more breathing room on this high volatility slot. And there's nothing wrong with just a change in scenery either, because Gates of Heaven is built with the same first class production standards that you would expect from Pragmatic Play. We definitely suggest you give Gates of Heaven a spin for yourself.
Article:
Gates of Heaven Slot – A New Take on The Adventures of Zeus
Stakefans.com