Stake HiLo – The Higher / Lower Crypto Card Game
While online slots grow increasingly complicated with ever fancier graphics and bonus features, there is simultaneously an appeal for simpler games. That's the way trends work really. While loads of features can be fun, sometimes one wants to take a step back and go retro. That is back to a more rudimentary form of gambling, with less bells and whistles, but still plenty of nerve-wracking little risks and unpredictable results.
And in that, Stake originals are a welcome addition to the online gambling world. Especially with games like HiLo that are easy to get the hang of, and also offer you the distinct advantage of crypto gambling play. The goal in HiLo is as straightforward as they come. You simply need to guess whether the next card dealt will be higher or lower than the one face-up, center screen.
Of course, you're not a fortuneteller, and neither are any of us on the StakeFans team. But it can definitely be fun guessing which type of card will appear next. And while this kind of randomness is essentially up there with a coin toss, the HiLo betting controls and odds indicators give you more leeway in determining the outcome.
Whatever the case, it has massive appeal. Whether you have strong intuition, or enjoy the risk associated with a true gamble, we think HiLo is a compelling card game you're sure to love.

How the Stake HiLo Crypto Game Works
To begin playing HiLo, you'll need a Stake account. Then log in. Once you're in, look under the section of the casino labelled 'Stake Originals' and click on the image labelled HiLo. The rules of the game are as simple as can be.

A card will appear face up on your screen. You can now choose to gamble that the next card will be either higher or lower in value than that card showing. If it happens to be an Ace or King showing, you can add the same to your options – as in the same value, rather than higher or lower.
The more cards that are revealed, i.e. the longer your winning streak, the higher your payout multiplier will be, which ultimately translates to your prize. You can keep playing for as long as you want, flipping cards, and betting in kind, or click 'Cashout' at any time to complete the round. It's up to you.
How to Bet on HiLo
As a Bitcoin or more specifically crypto game, HiLo does not pursue an overly complex concept. It's just a matter of finding the right bet for your budget and appetite for risk – which is probably the greatest challenge this card game poses.
However, there are a few fields you need to pay attention to when betting. Firstly and most obviously, is the 'Bet Amount'. This is where you enter your wager – between the minimum and maximum range allowed for your currency whether it's Bitcoin, Litecoin, Ethereum or whatever you're using. This function, can be found along the left side of the game play.
After that, look to the bottom of the game screen to see the potential payouts. They are listed as 'Profit Higher', 'Profit Lower' and 'Total Profit', and will auto adjust in kind as you enter your desired bet.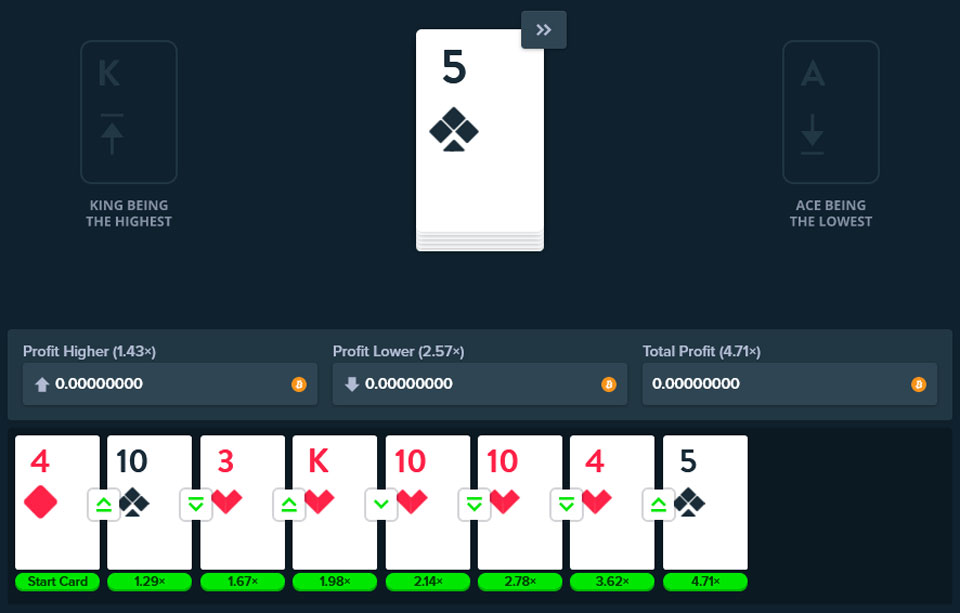 Listed, directly below your bet amount, again in the left navigation, there are your options for the type of bet you'd like to place, including the odds they deliver. 'Higher or Same' or 'Lower or Same' are your choices. The rest is a matter of luck.
For instance, let's say your first card shown is a 9. Your decision is now whether the next card will be higher or lower than a 9. In this example, if you guess higher and you're right, you will enjoy a payoff of 2.57X your bet. If you guess lower and you're right, your payoff will be 1.43X your bet. The payoff is lower because this is a higher odds bet as there are more numbers in the deck below 9 than above 9. Either of those can be a win. If you bet wrong, of course, you lose.
By the way, you may also notice that all the cards that have been drawn are shown on your screen. In truth, we're not sure why as it's not blackjack and you can't count cards, so cards called aren't really an indication of anything, such as what is coming next. But it can be interesting to keep track.
HiLo Betting Limits and Max Wins
As a crypto game, the amounts you can bet in different currencies vary vastly. While the chart we've put together below gives you a good indication, especially for BTC and the other digital coins, we recommend having a look at the game info for yourself, if you're interested in using a different currency for whatever reason.
Also note, the maximum profit for HiLo is a bit more complicated than say a standard online slot machine. So while you might think we made a typo in listing the maximum bet as higher than the maximum profit, that's not the case. In fact, we even checked with Stake customer support to be sure and got the answer: "Max bet is the amount you can put on every bet maximum, while max profit is how much profit you can get. For example, if you put 100 BTC, max profit is 5 BTC, and therefore max multiplier you can get is 1.05X."
| Currency | Maximum bet | Maximum prize |
| --- | --- | --- |
| | 100 BTC | 5 BTC |
| | 1,000 ETH | 150 ETH |
| | 3,000 LTC | 300 LTC |
| | 2,000,000 DOGE | 2,000,000 DOGE |
| | 1,000 BCH | 100 BCH |
| | 1,000,000 XRP | 300,000 XRP |
| | 10,000,000 TRX | 1,000,000 TRX |
| | 100,000 EOS | 10,000 EOS |
| | $200,000,000 | $1,000,000 |
| | €200,000 | €1,000,000 |
You might wonder why limits at Stake are also listed in euros although  you can officially only gamble in crypto there? As a truly user-friendly establishment, the crypto casino tries to make the conversion a little easier for players. Even though some people feel totally comfortable gambling in Bitcoin, they may still want to see the value in their local currency to keep better track. After all, crypto values can fluctuate a fair bit, some people find the reminder helpful.
"That being said, as a reminder, just to be clear, despite the fiat currencies shown during gambling rounds, deposits and withdrawals can only be made in digital currencies. This is true of Bitcoins as well as alternatives such as Ethereum, Dogecoin, Bitcoin Cash, or Litecoin, to name just a few."
No maximum multiplier set
Stake clearly indicates that the profit multiplier can continue to rise with each correct guess, as you line up successful cards in a row. However, there is still the upper limit for payouts according to the paytable, up to the equivalent of 1 million dollars to be precise. So just keep that in mind. While this is a huge prize, it is not of the unlimited variety you might find in a game like Plinko.
Play HiLo for Free at Stake.com
HiLo may be super easy to understand and intuitive to play, but in all fairness, it might be worth a few practice rounds first. While there is no HiLo demo mode available at Stake, there is actually something equally good. And that is that you can simply play HiLo for zero wagers. And zero wagers, of course means de facto, free.
All you have to do is set the 'Bet Amount' field to 0.00 and actually that's where it already begins. Then click 'Bet' to proceed playing Stake for free. Or if you prefer to get a real feel for the game – since gambling is about real money betting at the end of the day – you can do so with low risk minimal wagers.

Special Features of the Stake HiLo Game
A big part of the HiLo appeal is undoubtedly its simplicity. There are no fancy bonus rounds to aspire to, or levels to work your way up through. And there's no HiLo auto play, as betting decisions need to be made along the way. Instead, HiLo is predominantly just good old-fashioned try your luck fun.
That being said, the makers of the Stake original have come up with a few functions that not only make HiLo more exciting, but can also help customize your play with a few interesting options.
---
➥ Skip Card

Cards with a medium value in particular, such as 8 through 10, are difficult to assess. After all, let's be realistic, it is a lot easier to guess correctly if a card will be higher or lower than a 2 than it is to predict what value will follow an 8. So if you don't want to take these types of risks, you can simply skip such cards.
When you opt to skip the card, the bet you placed isn't lost, but the winning streak starts all over again. This isn't the end of the world, but you should be aware of this, as the offsetting of multipliers only takes effect if an uninterrupted series is played.

Pro tip:
 Based on the odds shown, you can roughly determine how high the probability is of being correct with your bet. Similarly, the lower the multiplier value, the greater the chance of making a correct guess.
---
➥ Max Bet

If you want to go for the big times, you can enable the 'Max Bet' function. Just click on the cog icon in the lower left corner and select the 'Max Bet' option there.
---
➥ Hot Keys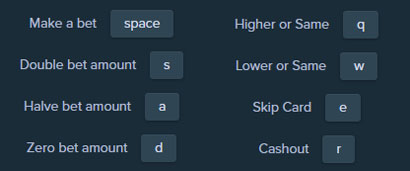 Game play doesn't really get any easier than HiLo, but if you want to make it even swifter you can choose to enable hot keys as well. You just press a single key to complete any given action like the space bar to make bet, or a lower case letter s to double your bet.
Just note, that once enabled, hot keys are turned on for all Stake games you play, and some might have slightly different key actions/directives, so you'll want to double check the different games you play.
---
What to Pay Attention to When Playing HiLo?
The great beauty of HiLo, many would say is the simplicity of the game, and that there isn't much to consider when you play. However, that doesn't mean there is nothing to pay attention to when you play HiLo.
You always, for example, need to consider your budget and bet accordingly. While the betting is simple – higher or lower than the card shown – there is still some to contemplate. A bit like blackjack, where you think about what card will be dealt next, though there is far less strategizing here.
Also, if you want to use the card skipping feature, you need to determine if it's worth your while. Which again, brings us back more to the point that HiLo is more about managing your money than classic how to play your cards game strategy.

Overall, we'd say that HiLo is essentially a
crypto card game
that has to be decided intuitively. There are no special tricks that affect the outcome, which means your gut instinct can make good sense here. After all, random number generators decide which card is dealt, so there's not much you can do about it anyhow.
Which Currencies Can Be Used to Bet on Stake HiLo?
StakeFans and experienced players know that HiLo is often classified as a Bitcoin game. What that means is that HiLo can be played in any of the 8 digital currencies accepted by Stake. Those are, as a reminder: Bitcoin, Ethereum, Dogecoin, Litecoin, Ripple, EOS, Tron, and Bitcoin Cash.

Also, as we mentioned above, while Stake is a crypto only casino, it does allow you to see your gambling transactions in fiat currencies like US dollars, Canadian dollars, euros, yens, and more. However, remember your actual bank transactions – i.e. deposits and withdrawals – will be in the cryptocurrency of your choice. The fiat currency shown is just for your convenience, if that is your preference.
---
Reasons Why We Love Stake HiLo

When it comes to reasons why we love the game after all that we have written in this Stake HiLo review, there's not too much to add here. We love the simplicity of the concept, the ease of play, and the potential for nice payouts. There is also a distinct thrill in the complete randomness of the game. That's why its appeal has strong overlap for those who love online slots and random chance games.
---
Is There a Good HiLo Strategy to Follow?
The crypto game HiLo is based on coincidences, and it is well known that they cannot be influenced. That means there is no HiLo strategy to follow.
This significantly differs HiLo from games like Stake Dice, in which roulette betting strategies such as the Martingale system are used. Instead, with HiLo, players must rely wholly on their own gut instincts, which is not necessarily a disadvantage. In fact, many HiLo fans see this as the distinct benefit of the game.
However, you can engage in a certain degree of strategy by considering the odds when you place a bet. With time, you should be able to master a fine balance between odds you like and the payouts you're after. Otherwise, complete randomness is also an acceptable way to go.
Our Final Assessment of Stake HiLo
If anything, HiLo can be a pretty emotional game. As you guess high or low, it's possible to find your emotions fluctuating in kind. A long streak of correct guesses, of course, would land you not only high spirits, but also with high wins.
While not for everyone, those with strong nerves and a taste for true random gambling are sure to love this game. We at StakeFans certainly do! And we're pretty sure if you consider yourself a Stake fan, you will too.
"A final tip to remember as you embark on your HiLo play. The fact is, the longer a winning streak, the more attractive the multipliers become. However, especially with crypto games like HiLo, you should develop a feeling for when luck is about to be exhausted. When in doubt, we'd say it's better to start from the beginning than to risk the losing previously achieved winnings. Or put even more simply, always know when to cash out."
Article:
Stake HiLo – The Higher / Lower Crypto Card Game
Stakefans.com