Wild West Bounty Slot – Hunting for Gold at Stake Casino
StakeFans, we're excited to share with you, there's a new sheriff in town. Okay, that's a bit of an exaggeration, but we wanted to capture your attention and give the Wild West Bounty slots the intro they deserve. Because, friends, this is an exciting game, that even takes Stake casino's exclusive line of Pragmatic Play enhanced RTP slots up a notch.
Building on the popular Wild West Gold slots, with a similar look and theme, this revved up version is an exciting twist. Highlights include great graphics, simple play, plenty of multipliers and free spins and payouts as high as 10,000X your stake. With a minimum bet of $0.20 and a max bet of $1,000 (i.e. very high), this game can be seriously rewarding with massive cash payouts.
This is made all the better with the true standout of Wild West Bounty slots. Which of course is its wildly high RTP, coming in at 98.02%. This is a high return to player for online slot machines in general. And is even high amongst the Pragmatic Play enhanced RTP game line, which itself averages an impressive 98% RTP on popular games like The Dog House Megaways and Sugar Twist.
All and all, we have to say we're impressed. But saddle up, and let's dig in, to discover more about what Wild West Bounty slots are about.
How the Wild West Bounty Game Works
This modified Pragmatic Play slot offers the same fundamentals as its predecessor, the popular Wild West Gold slots, if you've ever played. And truthfully, it doesn't really differ from any standard – and by that we mean really good – online slot machine in terms of how it works or how you'll play.
The setup is fairly simple, with the game played on 5 reels , and 4 lines. The overall theme is the Wild West, and this can be sensed in the graphics (of gun toting cowboys and cowgirls, as well as bags of loot) as much as the soundtrack, with its saloon feel.
Payouts are determined according to the symbols you land, with 3 of a kind being the minimum to win a prize. Wins are paid from left to right, for adjacent symbols only. All prizes are paid according to the game's paytable, which you can easily access from within the game.

Tip:
Just click on the little 'i' icon in the game's lower left corner to see the full paytable for yourself.
As a player, there is actually very little for you to do. But since some may be less familiar with how online slots work, basically to begin, you'll need to:

Open the Wild West Bounty game
Set your bet for the next spin – between 20 cents and $1,000 – using the '+' and '-' signs
Click the spin button to set the reels in motion
And hope for a win!
And that's really it. If you win, the amount will be automatically calculated by the game, and paid back directly into your balance.
Wild West Bounty Demo
Slots with a 98.02% are certainly appealing. But even if the payout rate is higher than usual, you need to like the game in order to play (in our opinion). While we couldn't imagine anyone out there wouldn't enjoy the Wild West theme here – i.e. it's got pretty much universal appeal – a great option to check, just in case, is to play Wild West Bounty for free.
Wild West Bounty at Stake.com
While free play is awesome for practice and getting a feel for the game, from our experience all we can say is that nothing beats the thrill of real money gambling. Especially with the potential for such a large cash prize on the table, as you'll encounter in this boosted RTP game.
So if you prefer the real deal (like us!) then take note. You can only gamble on this awesome new slot at our favorite crypto casino, Stake. Which you're free to already do. Just click the button below, and we'll take you there to discover the true enjoyment that Wild West Bounty slots have to offer, including the potential for some really massive cash wins.
Wild West Bounty Betting Options and Payout
Want to know how much you can win playing Wild West Bounty, and how? Like with any online slot machine, the exact payout for completing combinations depends on the wager. You can easily look in the paytable integrated into the video slot to see the potential profit in relation to the stake set, with amounts shown for 3 in a row combinations, 4 in a row, and 5.
But since your betting options range from $0.20 up to $1,000 (and you're already here), it can be just as useful to look at the chart we've put together below, and extrapolate from there.
| | | |
| --- | --- | --- |
| Symbol | Minimum payout | Maximum payout |
| | x1.5 | x20 |
| | x1.25 | x12.5 |
| | x0.75 | x7.5 |
| | x0.5 | x5 |
| | x0.35 | x3.75 |
| | x0.25 | x2.5 |
| | x0.15 | x1.5 |
| | x0.15 | x1.5 |
| | x0.1 | x1 |
| | x0.1 | x1 |
| | x0.1 | x1 |
In addition to the symbols listed above in the payout chart, there are also wilds and scatters available in this game. While both symbols perform important functions, and can definitely increase your winning potential, unlike in other enhanced RTP slots, they have no special value here.
Rewarding Wild West Bounty Bonus Features
Pragmatic Play is known for packing its slot machines with interesting extras. And in the case of Wild West Bounty, it most certainly does not disappoint on that frontier, with the provider integrating many of its best-known functions into game play. These include:

Although all of these are easily familiar from other online slot machines, each game has a slightly different twist on the exact way they work. As such, here's how these bonus features unfold on Wild West Bounty.
---
➥ Wild symbols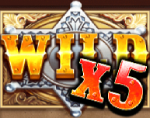 Wild symbols are particularly valuable in this game. Taking the form of the sheriff's badge, they randomly appear on reels 2 through 4, and work to replace missing symbols in potential combinations. That is, all symbols, except for the game's scatter symbol.
In addition to being the missing piece for winning combinations, they do double duty as a multiplier, with each wild card assigned a multiplier of 2X, 3X, or 5X your prize. That means the winning amount shown in the paytable increases by this amount. And if several wilds appear, their multipliers are added together, for exponentially more valuable wins on that combo.
➥ Free Spins Round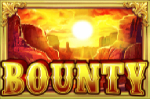 Free spins are a plenty here, and as in most online slots, they're triggered by the game's scatter symbol, in this case the Bounty logo. The scatter symbol can only appear on reels 1, 3 and 5, and needs to appear on all three of these simultaneously in order to trigger the free spins round. As for the mechanics, the free spins round begins with an initial 8 free spins. Using these free spins you can win additional cash prizes in kind.
Plus, if you land the round's special scatter overlay symbol (a gold star essentially), you will be further rewarded as follows:

2 star symbols = 4 additional free spins
3 star symbols = 8 additional free spins
4 star symbols = 12 additional free spins
5 star symbols = 20 additional free spins

Note:
During the free spins round, all
wild symbols are sticky
. That means once you land a wild on reels 2, 3, or 4, it will stay in place for the duration of the free spins round, no matter how many additional spins are triggered. The wild will also maintain its full power here, including completing winning combinations and applying its associated multiplier to any payout.
As for just how much money you can win in the free spins bonus, the general rule is that as soon as a win of 10,000 times your basic stake has been achieved, the round ends and the game returns to the main area of play. Also exciting, if you don't succeed in making a profit of at least 10 times your stake during the ongoing free spins, this minimum amount will still be paid out. So your potential win is basically a minimum of 10X your bet value, regardless of the symbols that appear, guaranteed.
➥ Bonus Buy Feature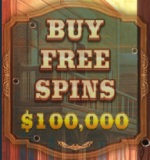 If you want to fast-track your way to free spins, Wild West Bounty will let you do so. For a price that is. Or more specifically 100X your base stake.
How many special scatters will then appear after activating the bonus buy is anyone's guess, as that is determined randomly, as in the main game. But if you like the odds of the bonus round even more than in the main game, this is an option you can definitely consider too.
---
Wild West Bounty vs Wild West Gold
For anyone even remotely familiar with its predecessor, it is abundantly clear that Wild West Bounty is a continuation (or enhancement shall we say) of the Pragmatic Play game Wild West Gold. The overall ambience, graphics, soundtrack and paytable are quite similar, though we'd argue the new version designed for Stake is actually more attractive. In addition, there are of course a number of differences to set these two versions apart, beyond the matter of the enhanced RTP.
For example, expanding on our commentary on the graphics, the four "protagonists" have been given a new look in Wild West Bounty, that is sharper and more realistic than the cartoonish style of Wild West Gold.
The name of the scatter symbol also differs. While Wild West Gold's free spins theme is simply named Scatter, Wild West Bounty appropriately calls it Bounty. The function is the same, however, and multipliers and overlay symbols are used in both games, since that's something that players are known to love.
Overall, both, in our opinion are fun – because a Wild West theme always is. But with more sophisticated graphics and that higher RTP, it's hard to argue with Wild West Bounty as a preferred choice.
Is there a Wild West Bounty Game Strategy?
Last, but not least, let's talk strategy. With Wild West Bounty, StakeFans generally benefit from a higher payout rate, which can have a positive effect on your account balance over the long term. However, this cannot be controlled, even with a strategy. That's because there is not really a strategy to employ. The outcome of any spin in slots is determined solely by chance, by the random number generator (RNG), and there's simply no way to scheme around that.
That being said, thanks to the demo mode made available on this page as well as at Stake itself, you could take the strategy of familiarizing yourself with the basics first, and based on this, consider how much effort the virtual journey to the Wild West is worth. And therein, you might say lies the strategy of this game, as much as any slots. As the only advantage you can possibly gain, has to do with your own pocket.
Well thought-out budget planning reduces the risk of loss on the one hand, while ensuring you optimize your fun. For example if you have 100 Dollar in your balance, you may choose to play hundreds of rounds on a small sized bet, rather than blowing it all on a single spin, especially if you are looking for some entertainment factor in addition to the potential wins.
Our verdict on Wild West Bounty enhanced RTP video slots
Overall, it is safe to say that Wild West themed games are popular amongst players. Just like films of that genre. That's why Pragmatic Play created its original Wild West Gold slots, and why it has used it as the base for the enhanced RTP Wild West Bounty slots. Personally, we love both these games – including the style, payouts, and bonus features built-in.
That being said, the graphics used in Wild West Bounty are sharper in our opinion, and of course, there is that wildly high return to player listed as a theoretical 98.02%. For us, that itself insinuates which is the better choice, if you're doing so by comparison. Though of course, both are worth a spin.
---

But since StakeFans are inclined to enjoy all the advantages of this crypto casino's unique positioning, we certainly recommend at least trying its exclusive titles. And this, of course, includes Wild West Bounty enhanced RTP slots. Super exciting for us fans, this amazing game is available only at Stake! So if you're keeping count, that's yet another reason why Stake stands heads and shoulders above the competition, in terms of delivering a unique gambling experience.
---
Article:
Wild West Bounty Slot – Hunting for Gold at Stake Casino
Stakefans.com