Sugar Twist – Exclusive Candy Themed Slot Game at Stake
Candy themed slots from Pragmatic Play have been incredibly popular. Like the Sugar Rush slot is known for delivering an incredible boost of happiness that parallels the energy you might get from indulging in all your favorite sweets. And now you can indulge in all this goodness in the form of an exclusive slot at Stake Casino.
Yes, so Pragmatic Play has crafted Sugar Twist slot based on Sugar Rush, and it's an Enhanced RTP slot that you can only play at Stake. And of course, we at Stakefans are here to break down what the game is all about in this Sugar Twist slot review.
To put it simply, Sugar Twist is just like the Sugar Rush slot, except the RTP is now higher at 98%. The theme is still the same, as are the mechanics and bonus features. So are the bet sizes, with min bet at $0.20 and max bet at $1,000. Max win is capped at 5,000x. So other than the fact that Sugar Twist is only available at Stake, all the basics in the Sugar Twist slot are the same as Sugar Rush.
We admit, everything on the spec sheet is feeling pretty similar between Sugar Twist and Sugar Rush. Except for one really important thing. The RTP in Sugar Twist is way better at 98%. Sugar Twist is an Enhanced RTP slot at Stake, and these slots are an exclusive partnership with Pragmatic Play. And what happens with Enhanced RTP slots is exactly what you imagine from the name. The RTP is enhanced. From Sugar Rush's original 96.5%, Sugar Twist boasts a 98% RTP.
How the Sugar Twist Game Works
Since Sugar Twist is an exclusive slot at Stake, you'll have to play it at Stake. And once you're at the Stake site, you can find Sugar Twist in the Enhanced RTP tab in the casino's game menu. Or you could also just type the slot name into the search box. Whatever works for you.

In case you are new and not a Stakefan yet, then we'll just run you through the basics. Stake is a crypto casino, which means you
bet with cryptocurrencies
and the site accepts
a huge range of coins
. If you don't have any crypto, you can buy some from the casino using a credit card via the Moonpay gateway.
Now as for betting on the slot itself. You're looking at a 7 x 7 grid in Sugar Twist. Bet size ranges from $0.20 to $1,000.  It's a Cluster pays game that has a Tumble win feature. There are no paylines here and wins start happening when you have a minimum of 5 matching symbol next to each other.
Sugar Twist Demo
Sugar Twist Payout
An enhanced RTP is great, but it's the actual payout that really determines how big your win is going to be. Check out the paytable below showing you each symbol's base pay out. The Scatter symbol in Sugar Twist unlocks the free spins bonus round but does not have real wins attached to it.
| | | |
| --- | --- | --- |
| Symbol | Min. Payout | Max. Payout |
| | x1 | x150 |
| | x0.75 | x100 |
| | x0.5 | x60 |
| | x0.4 | x40 |
| | x0.3 | x30 |
| | x0.25 | x25 |
| | x0.2 | x20 |
Sugar Twist vs. Sugar Rush
There really isn't a whole lot that's different between Sugar Twist and Sugar Rush. Ok, the increased in RTP is sort of a big deal, but this is typically something that plays and pays out over a few more spins.
Both games also feel very similar visually, although Pragmatic swapped the gummy bear symbols for Swedish Fish, and the gumball machine that is the Scatter in Sugar Rush is now the colourful sugar twist.
Sugar Twist Bonus Features
Now that we have the basic mechanics covered, here are the details to the bonus features in Sugar Twist.
---
➥ Scatter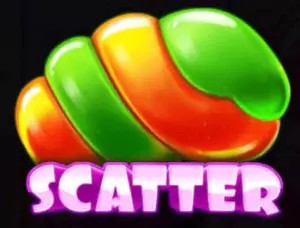 The Scatter symbol here is, well, a colourful sweet twist. Probably what gives the game its name. Anyhow, when you spin a minimum of 3 Scatters, you will unlock a round of free spins. The more Scatters you have, the more free spins you get:
3 Scatters: 10 free spins
4 Scatters: 12 free spins
5 Scatters: 15 free spins
6 Scatters: 20 free spins
7 Scatters: 30 free spins
➥ Tumble Win
Tumble Wins go hand in hand with Cluster Pays nowadays, and you get that in Sugar Twist. Expect you winning symbols to disappear and make room for new ones as everything tumbles down. Tumbles can keep on going until you stop getting winning outcomes.
➥ Multipliers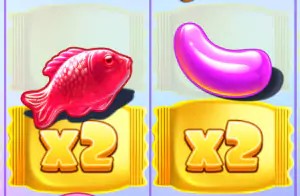 When your winning symbols disappear in a Tumble, the spots are marked with a 2x multiplier on the next spin. If it's a win, that multiplier is increased on the next spin and it keeps climbing up until you hit 128x.
At the end of your tumbling sequence, the multipliers are added up together and applied to your win.
➥ Free Spins
During the Free Spins round, multiplier spots remain on the grid until the end of the round. The round may be re-triggered by spinning the same respective number of Scatter symbols.
➥ Bonus Buy
There's also the option to buy your way into the Free Spins round. This comes with a price tag of 100x your bet size to unlock a round.
---
Is there a Sugar Twist Strategy?
When considering game strategy, there are a couple of things worth looking at here. Sugar Twist is a high volatility slot. This means that wins don't come by so often, but when they do, they tend to be bigger. At the same time, it has a high RTP. A 98% RTP slot is considered very good, and is really more than a bit higher than Sugar Rush, which stands at 96.5%.
The thing with RTPs is that it's a statistic built over the long run. This means for you as a player, even though the 1.5% difference is significant, you might not feel the difference until you start hitting thousands of spins. Which means you should still keep an eye on your budget, even though your odds are improved now. We would also not rush into the bonus buy for the free spins at 100x bet size, because the bonus round is relatively limited in terms of extra perks.
The Stakefans' Take on Sugar Twist
Is Sugar Twist going to be the rush that it's made out to be? Well, the answer to that always depends on your expectations. The easiest way to put this is that if you liked the Sugar Rush slot, you will definitely like Sugar Twist if you're not expecting a whole lot more. That's because it's basically the same game.
Now, undoubtedly, a lot of players will be checking Sugar Twist out because the Enhanced RTP part. And we have this to say: keep your expectations in check!
Remember, a RTP is theoretical pay out rate based on long term statistics. That means it's unlikely that you will see the difference in a few spins. Still, it does give you an advantage in the long run, and this is something you should use to your advantage by budgeting for longer, steadier play.
Article:
Sugar Twist – Exclusive Candy Themed Slot Game at Stake
Stakefans.com