Stake Casino Bonus
Everyone loves casino bonuses. After all, free chips are one of the best ways to get a taste for a casino's offering. Whereas other casinos will give tons to new players but have little else to offer once they become regulars, that's not the case at Stake. When it comes to premium deals and promotions, it's all fair game for everyone at Stake Casino, whether you're a spanking new member or an experienced old hand. There are daily, weekly and monthly bonuses from Day One, along with unique challenges – with rewards, of course.
Stake Welcome Bonus $500 with code "stakefans"
Actually, our readers at Stakefans have an extra advantage when it comes to bonuses. With all the goodies you can claim from your very first day, Stake doesn't offer a welcome bonus by default, but we managed to get an exclusive bonus code for you. When new players register and enter the bonus code "stakefans" into the signup form, they can claim a 100% bonus up to 500 CAD.
---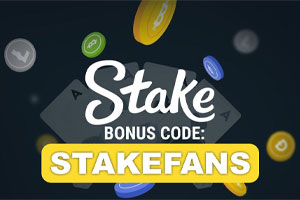 The full terms of the bonus are:

100% to $500 Canadian (or equivalent)
Sign up with bonus code "stakefans"
$50 minimum deposit
Must deposit within 24 hours of signing up
Wagering requirement 30x bonus plus deposit
For new customers at Stake only.
---
So if you have yet to discover all that Stake Casino has to offer, then this offer is a mighty fine way to get a load of free chips to check it all out. Remember you have to enter the bonus code when you sign up, because otherwise you can't claim the bonus when you deposit!
Stake Bonuses and Promotions
There are online casinos that have super crazy welcome bonuses to lure in new players, but then have little to substance to offer afterwards. That's not the case at Stake. Other than the huge range of games and betting possibilities, Stake makes sure there are always extra opportunities for you to win. From regular top ups to bonus drops, to reeling in massive cash prizes from races, there's always something you can claim.
Stake VIP Bonuses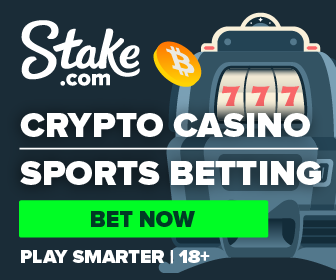 High rollers in particular love the Stake VIP program.. To begin with, loyalty bonuses at Stake have no wagering requirements. Yes, you read that right. Bonuses you get as a Stake VIP are wagering requirement free so that what you win can be withdrawn immediately. These are seriously the best kinds of bonuses because you don't have to worry about how much more real money you have to play before you can cash out your winnings.
14 VIP Levels at Stake
There are 14 levels to the Stake VIP program, and as you can imagine, the perks get better as you climb up the ladder. It's divided into Bronze, Silver, Gold, then 6 Platinum levels, followed by Diamond, which has 4 hidden levels. The table below shows what each level can get you.
Clearly, there are lots of good things to look forward to. Entry into the Stake VIP club is by invitation only, so basically you will have to start playing to prove your worth. But with the rakeback offers and bonuses, it is very much worth it. What's more, once you are in the club, you will keep your status and level. For example, if you are a Gold member you will always be a Gold member. There is no minimum monthly wager needed to maintain your VIP level.
Overview of the Bonus Levels at Stake Casino
| Bonus | | | | | | |
| --- | --- | --- | --- | --- | --- | --- |
| Bonus in currency of your choice | | | | | | |
| Rakeback enabled | | | | | | |
| Weekly bonuses | | | | | | |
| Monthly bonuses | | | | | | |
| VIP Telegram channel access | | | | | | |
| Increased bonuses | | | | | | |
| Daily bonus (reload) | | | | | | |
| Dedicated VIP host | | | | | | |
| Bonus from VIP host | | | | | | |
| Exclusively customized benefits | | | | | | |
| Level | 1 | 2 | 3 | 4-5 | 6-9 | 10-14 |
How Stake VIP Bonuses Work
As mentioned, you have to be invited into the Stake VIP Club, however, once you start wagering, you can see your progress towards coveted VIP status when you login. The site has a table summarizing the requirements to the various levels VIP levels, but basically you're looking at $10,000 to start on the Bronze level.
You'll see that the amounts are listed in US dollars. It doesn't really matter whether you choose to play in USD, Euro, BTC, ETH, or another cryptocurrency because it all gets converted to USD for calculation purposes.

The great thing about the program is that you can carry over your play from previous level towards the next level. For example, you are currently a Bronze VIP, which means you've already wagered at least $10,000. The Silver VIP level has a cumulative requirement of $50,000. In plain language, that means you don't need to wager another $50,000 to get Silver status because the $10,000 from your Bronze level counts as well. That means you "only" need to wager another $40,000 to reach Silver level. To be fair, starting at $10,000 even at just the Bronze level, means that it can take some time and wagering before you gain your VIP status.

Stake is a no limit casino, meaning you can deposit as much as you like and there are no artificial max bet limits. High rollers can climb up the VIP levels much faster here than at other casinos.
Wagering Requirements to Stake VIP Rewards
The bonuses you get as a Stake VIP are all wagering requirement free. Anything you win with your bonus can be withdrawn as cash right away. There are no strings attached and it's one of the many reasons why it's worth trying to get into the Stake VIP club despite the somewhat high entry requirements.
Benefits of the Stake VIP Program
One of the main attractions to the VIP program at Stake Casino is that you get regular bonuses and other advantages. These are awarded on a daily, weekly and monthly basis. And the higher your level, the higher and more frequent the bonuses. We've summarized them for you here.
Daily Reload Bonus
There are weekly and monthly bonuses from the first level of the program, but starting from the Platinum levels, you can count on daily reload bonuses. Yes, we're talking about daily bonuses with no wagering requirements. Hell yeah. The amount of the bonus is based on your turnover in the past 7 days. There is also the option to pick up your bonus on a daily or hourly basis. The amounts start small, but they will increase as you play.
Rakeback
From the moment you enter the program as a Bronze level member, you can claim a Rakeback. Rakeback is a term that originated in poker and sportsbetting, where punters get something back from the total of bets placed and their fees. At Stake, this Rakeback is 10% of all stakes at the casino that is applied by reducing the house edge on games, including slots and live casino games. You can claim the Rakeback every 30 minutes from your VIP menu.
Level up Bonus
Moving up a status level is a big deal, and you will be warmly welcomed with a message from the Stake Casino support team that includes a bonus. The amount of the bonus is fixed from the Bronze through to the Platinum levels. However, at the Diamond level you'll get a personalized offer that can go even beyond $25,000. Your VIP account manager will have all the details when that time gets close.
Weekly Bonus
Saturdays at Stake will get you a boost up with another bonus. The amount isn't fixed and it's announced in the Stake Telegram group each time. You'll get access to the group once you are a Bronze level member.
Monthly Bonus
The amount of the monthly bonus you'll receive will depend on your VIP level and on the amount you've wagered in the last 30 days. Technically, the bonus can be paid out on any day of the month, although most players receive it around the middle. You'll be notified in advanced by email so you won't miss it.
Stake VIP Challenges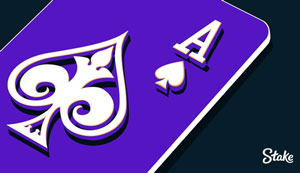 Stake Casino runs various challenges, where you will be rewarded with not just glory but also fantastic prizes if you survive the competition. The VIP exclusive challenges get even better. The challenges are always updated with different games. For example, there's been a challenge for the Dice crypto game, and also a Blast Challenge for the Mines game, with an $8,500 prize pool. The challenges are always different, and you can read up on the rules to each offer before you jump in.
The Return of the King VIP Slots Challenge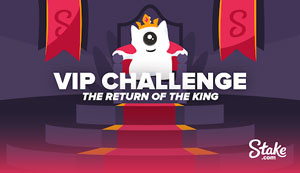 This is a weekly challenge where you want to win the highest multiplier in a slot, with a minimum multiplier of 100x , a minimum of a $0.25 bet. You must be at least Bronze level VIP to qualify. There's a prize pool of $7,500 that's divvied up by the top players.
Weekly $50,000 Giveaway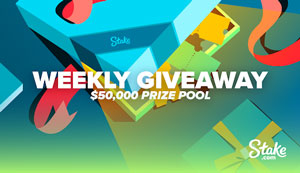 Every single week, there's a massive $50,000 giveaway split between 10 VIP players at Stake Casino. That means each person pockets $5,000. That's some pretty decent money we'd say. You get a ticket to the giveaway for every $1k you wager and you can find your ticket number in your VIP menu.
The Level Up
This is a weekly promotion where you can win a share of a cash prize pool for hitting specific multipliers in specific slots. Every now and then, you'll see the name Eddie pop up in challenges. Eddie is actually Eddie Miroslav, the guy who founded Stake. Stakefans and Twitch viewers may know him by his streamer name PrimeEdd.
Bonuses and Promotions for Everyone at Stake
Depending on your budget, it can admittedly take a while before you reach VIP status at Stake. But have no fear. There are plenty of other awesome promotions that regular Stakefans can claim. Some examples include: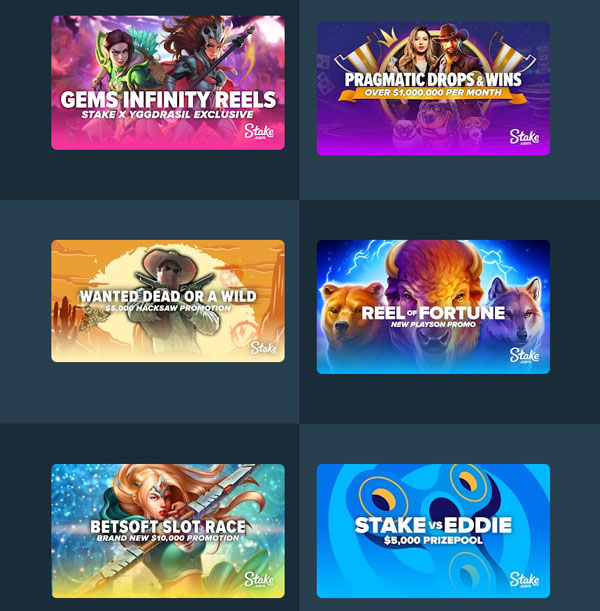 Exclusive promotions with developers like Thunderkick, Betsoft, Playson and Spinomenal, featuring cash prizes
Daily Drops for playing featured new games
Drops & Wins from Pragmatic Play
Stake vs. Eddie Weekly Jackpot
New Release Giveaway – there's a prize pool for playing the newest games at the casino
Slot Challenges
Stake Races
Telegram Challenges – the details are announced on Stake's Telegram channel. There are daily hunts and amazing prize pools here.
Clearly, there are plenty of promotions and extras that players at Stake can pick up at any time and the details are always posted. However, just remember that you're only allowed to participate in one campaign at a time.
Stake Forum: The Best Way to Stay on Top of Offers
With so much going on, the best way to stay on top of it all is the Stake Forum. The forum has a special section dedicated to threads about:

Casino Promotions
Sportsbook Promotions
VIP Promotions
Other Promotions
It's a pretty active place and the forum is also where you should post your results to some of the Stake Challenges. You can see what other players are up to too. Each promotion gets its own thread, with the rules of the game pinned to the top.
Stake Casino FAQ
How do I become a Stake VIP Player?
The Stake VIP club is pretty exclusive and you will have to wait for an invitation from their team. However, entry requirement to the Bronze level is set at $10,000 US.
Where can I see my status progress?
From the moment you create an account at Stake Casino, you'll find a progress bar on your account towards the top right of the page. If you're not yet a VIP member, it will show your progress towards the Bronze level. If you're already a VIP member, the bar will show how far you are from the next level.
What are the benefits of the Stake Bonus program?
First of all – with our exclusive Welcome Bonus being the exception – Stake bonuses have no wagering requirements, whether it's bonus cash or free spins. No strings attached are what players like best, and you definitely get it here. Then there's the sheer diversity and quantity of the rewards at Stake Casino, often involving straight up cash prizes.
Do I get VIP points for sportsbetting?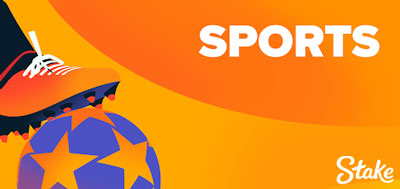 Yes, every real money wager at Stake will count towards your VIP status, whether it's sports, slots or live casino games. And if sportsbetting is your thing, then you're even in better luck because you can even collect points 3x faster in the Stake Sportsbook than at the casino!
Can I lose my VIP status?
No. Unlike at other casinos, you can't lose your VIP status at Stake Casino. Once you've achieved a certain level, it's yours for life. There's no minimum wagering needed to maintain your status. If for whatever reason you end up playing very little for one month, it's absolutely cool. And when you come back at full speed, you'll find you can enjoy the same privileges as where you left off.
What are Stake's Drops & Wins?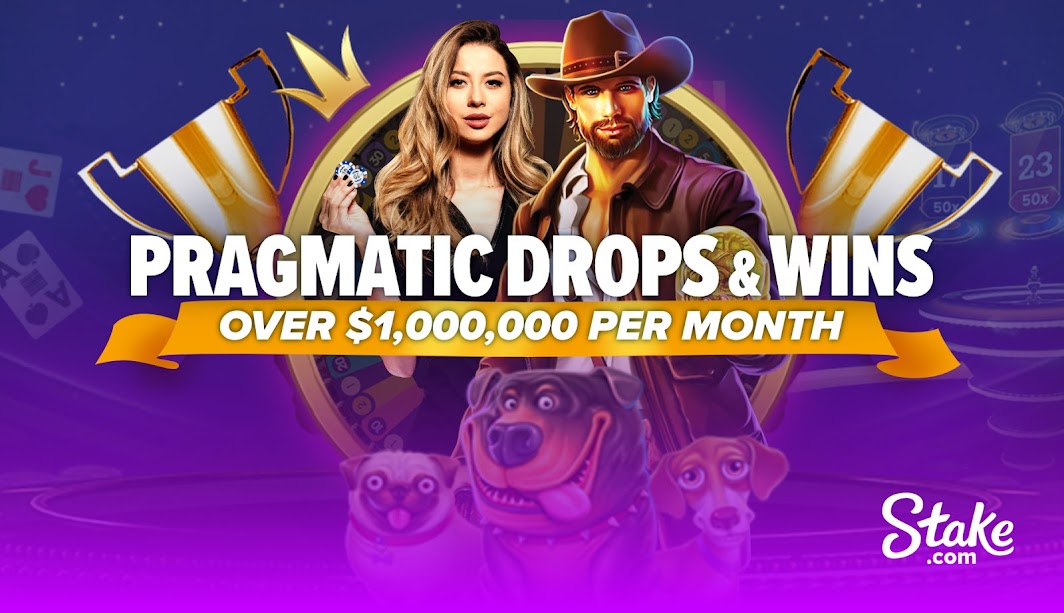 You've probably heard of Pragmatic Play Drops & Wins games at other casinos. Basically these are various slots and even live casino that have Daily or Weekly jackpots attached. The Stake Drops & Wins is a special partnership between Stake and Pragmatic Play, where it more or less functions in the same way, except the prize pool is much bigger at around $1 million.
Our Conclusion on the Stake Casino Bonus
While some are often disappointed when they can't find a welcome offer at Stake Casino, we at Stakefans have took it upon ourselves to solve this problem with an exclusive welcome bonus. After this special freebie, experienced casino players will appreciate the regular bonuses at Stake Casino for their simplicity.
With the VIP bonuses, there are no wagering requirements or other complicated terms that eat into the actual value of the offer. Bonus winnings can be withdrawn right away, or sometimes it's just straight up cash. So while the entry requirements to the Stake VIP club are a bit high, many players do work towards it as there are more high value promos available on a regular basis.