Stake Crypto Gambling
This site, StakeFans, is clearly all about our love of Stake casino. And what we love about Stake casino is that it is the best crypto casino around!
But have you ever thought about what that means? Like what is crypto gambling and how does Stake do it so well?
This article is dedicated to flushing it all out. Because we want you to enjoy your time at Stake as much as possible. And while you already are a devotee, there is always more to learn about what makes Stake so great for crypto gambling.
Stake Crypto Gambling Highlights

Gambling in 20+ different cryptocurrencies (and even fiat if you prefer)
Absolutely no max limits for cryptocurrency deposits and withdrawals!
Over 2,500 casino games including almost 1,000 crypto slots
Special crypto games like Dice, Mines or Plinko
Provably fair algorithm ensures transparency of payouts
What is a crypto casino anyhow?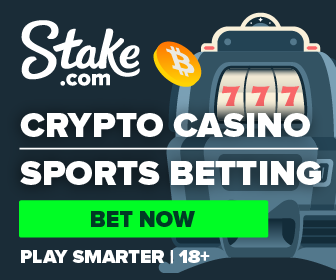 A crypto casino is an online casino where you can bank in cryptocurrency. That means you can fund your casino account with a digital currency and withdraw your money using a digital currency.
This is different from a traditional online casino where you do all your banking in what are called fiat currencies like US dollars, Canadian dollars, yen, or euros.
Stake started as a crypto casino, and due to popular demand it has added the option to bank in fiat for certain countries. That means you can play at Stake even if you don't have any cryptocurrency.
Reasons to gamble in cryptocurrency
There are a lot of reasons why people like gambling in cryptocurrency. One is the fact that there are generally far fewer limits in place. That's the nature of the beast you might say. After all, crypto came around in order to provide more privacy and reduce bureaucratic drag.
For these same reasons, crypto transactions are far faster than regular old cash. This is especially beneficial when cashing out, as you get your money back substantially quicker.
And some would say it's easier to evade taxes with crypto, but shhh we can't really say anything on the matter here.
Currencies Stake Casino accepts
Stake accepts both fiat currencies and cryptocurrencies for gambling purposes. One of the big benefits of Stake over other online casinos is that it accepts a lot of different cryptocurrencies including, but also beyond, Bitcoin.
Currently, the accepted crypto coins at Stake are:
Bitcoin (BTC)
Ethereum (ETH)
Litecoin (LTC)
Tether (USDT)
Dogecoin (DOGE)
Bitcoin Cash (BCH)
Ripple (XRP)
EOS Coin (EOS)
Tron (TRX)
Binance Coin (BNB)
USD Coin (USDC)
ApeCoin (APE)
Binance USD (BUSD)
Cronos (CRO)
DaiCoin (DAI)
Chainlink (LINK)
The Sandbox Coin (SAND)
Shiba Inu (SHIB)
Uni Coin (UNI)
Polygon (MATIC)
This is a really solid list covering the most popular coins because Stake is simply the best crypto casino and makes things easy for you. And that includes the flexibility of banking you get with all these different coin options.
For those who prefer using more traditional currencies, Stake has added the capacity to bank with fiat. This is obviously good news. However, before you open the champagne, we have to say it's limited to just some currencies and countries for now. Canadian, Brazilian and Japanese players in particular will have the option to gamble in their national currency at Stake.
How to make crypto casino transactions
Stake makes it easy to deposit and withdraw the cryptocurrency of your choice to and from your casino account.
All you need to do is open your Stake wallet and follow the onscreen instructions from there. If you're familiar with how payment methods work at an online casino, it is exactly the same thing.
The only difference is that for deposits you will need to send your payment to the crypto address provided onscreen, or scan it using your mobile.
Withdrawals again work in the exact same way. Make absolutely sure you provide the correct address for the casino to send the money to, because if you don't the money will be irretrievably lost in the blockchain.
Deposit limits
Like we said, one of the biggest benefits of crypto gambling is the fact that there are very few limits. In fact, for deposits there are no max limits at all at Stake when you're banking with crypto. As long as your deposit covers at least the network fee for the transaction, then you can deposit as much or as little as you want. Although really small deposits may not leave you very much to play with after the network fee, so you may want to consider going at least a bit above the minimum.
| | | | |
| --- | --- | --- | --- |
| Currency | Min. Deposit | Max. Deposit | Available |
| | None | None | Instant |
| | None | None | Instant |
| | 0.003 ETH | None | Instant |
| | None | None | Instant |
| | None | None | Instant |
| | None | None | Instant |
| | None | None | Instant |
| | None | None | Instant |
| | None | None | Instant |
| | None | None | Instant |
| | None | None | Instant |
| | None | None | Instant |
| | None | None | Instant |
| | None | None | Instant |
| | None | None | Instant |
| | None | None | Instant |
| | None | None | Instant |
| | None | None | Instant |
| | None | None | Instant |
| | None | None | Instant |
---
Then there is the option to deposit in fiat. These obviously won't have the associated network fees from crypto transactions, but they will have a maximum deposit limit. The exact limit will depend on the payment method you are using.
Accepted fiat currencies and their respective payment methods at Stake include:

Yen (JPY) with TigerPay, credit cards and bank transfer;
Brazilian Real (BRL) with Pix;
Canadian Dollar (CAD) with Interac.
Withdrawal limits
Even better than the lack of deposit limits we'd say is that there are virtually no withdrawal limits for banking with cryptocurrencies at Stake. We say "virtually" because there are some really low minimum withdrawal amounts you need to make. It's really just an amount that covers the network fee and still ensures you have some leftover to make it worthwhile. The amounts are low enough that it should never be a problem.
Then with no cap on your maximum withdrawal, the sky's the limit. That means if you win really big, you can instantly take out the whole prize purse. This is something you rarely – if ever – see at a traditional online casino, which is another reason we like Stake and crypto gambling so much.
| | | | |
| --- | --- | --- | --- |
| Currency | Min. Withdrawal | Max. Withdrawal | Available |
| | 0.0002 BTC | None | Instant |
| | 0.04 LTC | None | Instant |
| | 0.004 ETH | None | Instant |
| | 0.02 BCH | None | Instant |
| | 30 DOGE | None | Instant |
| | 20 XRP | None | Instant |
| | 30 TRX | None | Instant |
| | 2 EOS | None | Instant |
| | 0.015 BNB | None | Instant |
| | 2.5 USDT | None | Instant |
| | 2.5 USDC | None | Instant |
| | 0.96899 APE | None | Instant |
| | 2.5 BUSD | None | Instant |
| | 39.26 CRO | None | Instant |
| | 2.5 DAI | None | Instant |
| | 0.709 LINK | None | Instant |
| | 4.67289 SAND | None | Instant |
| | 370,644.922 SHIB | None | Instant |
| | 0.683 UNI | None | Instant |
| | 6.117 MATIC | None | Instant |
---
You can withdraw in fiat if you deposited in fiat. There are no network fees involved in these cases, but you won't get the no limit withdrawals that you can enjoy with crypto at Stake. Again, the maximum withdrawal limit depends on your payment method
Money transfer timeframes – How quick is a Stake transaction?
Like we said above, one of the biggest benefits of crypto transactions is their speed. True, there are blockchain confirmations that need to be completed before any money is ever transferred. And different cryptocurrencies will require a different number of confirmations – from as few as one for Bitcoin and up to 12 for Ethereum, so they are never exactly instant but it's pretty darn close. That's why we labelled them as instant in our table. We would say they take a matter of minutes, depending on how active network traffic is at the moment you submit your transaction.
Account verification for crypto gambling
Although you may be drawn to crypto for the privacy of transactions, a licensed casino like Stake can't keep things totally anonymous. It has, after all, regulatory demands to abide by. And so when you want to withdraw, you will have to provide some identify confirmation details.
These are the regular types of questions you'll get from any reputable online casino – and definitely from any licensed online casino – amongst which Stake is a leader. This is in the name of safe gambling and is absolutely for your protection. So we at StakeFans definitely support the initiative.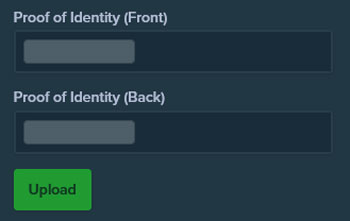 And what will you need to provide, you ask? Your full name, date of birth, country of residence, and full address for starters. After that you'll be asked to provide Proof of Identity by uploading a photo of both sides of either your ID card or valid passport. And then finally, you'll be asked to provide Source of Funds and Proof of Address documents to complete the process.
Don't worry if that sounds like a lot. Each stage is really quick, and the type of info asked for is really standard stuff. It shouldn't take more than a minute or two to complete each of these stages.

Also, an insider's tip:
while you don't have to do all those steps all at once, it's better to complete them sooner than later. Inevitably you will want to make a withdrawal at some point, and you want to have finished up all the paperwork first to hurry it along.
Crypto banking fees
Although most online casinos don't charge fees for banking, the providers of the payment methods usually do. Some of these may be less obvious, like the monthly credit card fee you may pay to cover all transactions in a month. Or some may be per action, like each e-wallet exchange you make.
With crypto banking you will generally pay a fee per transaction. Most crypto casinos will not charge you for a deposit. However, you may still be charged a fee by the crypto wallet you're using to pay for the mining network, which is how the blockchain works. And this is the case at Stake as well, which means there will be a blockchain fee on deposits charged by your crypto wallet.
Similarly, there will be fees each time you cash out at Stake when using cryptocurrencies. Also note, the fees are taken straight out of your balance, so make sure you have enough in your account to cover them – though since they're so small, we assume you will.
For a good idea of what to expect, last we checked, withdrawal fees at Stake for each digital coin are:
| | |
| --- | --- |
| Currency | Network Transaction fee* |
| Bitcoin | 0.00007 BTC |
| Tether | 5 USDT |
| Ethereum | 0.0005 ETH |
| Litecoin | 0.0005 LTC |
| Dogecoin | 1.5 DOGE |
| Ripple | 0.0001 XRP |
| Bitcoin Cash | 0.00001 BCH |
| EOS | 0.1 EOS |
| Tron | 1 TRX |
| Binance Coin | 0.0002 BNB |
| USD Coin | 1 USDC |
| ApeCoin | 0.155 APE |
| Binance USD | 0.8 BUSD |
| Cronos | 6.28 CRO |
| DAI Coin | 0.8 DAI |
| Chainlink | 0.11347 LINK |
| The Sandbox | 0.748 SAND |
| Shiba Inu | 59,347 SHIB |
| Uniswap | 0.109 UNI |
| Polygon | 0.9784 MATIC |
*You can just as easily see them listed in your fiat of choice from your Stake wallet.


Since nobody likes paying fees, one of the tips we can offer is to bank less. That is, if possible make bigger transactions so you make them less frequently. Of course, only if that works for your budget. But that's really the only banking fee workaround we can recommend at the moment.
What to do if you don't have one of the Stake cryptocurrencies yet?
It is possible that you're already a Stake fan like many big casino streamers without having gambled there yet. You could have simply had a look at the sight and really liked what you saw. But what to do if you don't have Bitcoin to gamble?
Well, you have two options. The first option is to buy crypto direct from its site. Just log in to the casino and click on the big blue 'Wallet' button to begin. There you'll see a tab labelled 'Buy Crypto'. Click to open it up.
As you'll see, there are then two fields. One for all the cryptocurrencies you can potentially buy, and another for the currency you would like to use to buy them – there are nine options there.
Once you've made your choice you click the button labelled 'Buy via MoonPay' and proceed from there. MoonPay is a well-known payments infrastructure that allows websites – like Stake, to enable the purchase of virtual currencies with credit cards, Apple Pay, Google Pay and Samsung Pay. It's easy and seamless, and works really well. This is a great entrance point if you're looking to get into the world of crypto in general and crypto gambling in particular.
The second option is to bank with fiat. Yes, Stake recently added the option to gamble in fiat. However, this is limited to just the Canadian dollar, Japanese Yen and Brazilian Real for now, and is only accessible in select countries with localized payment methods, like Interac for CAD.

Safety of crypto banking
Whether you're playing in Dollars or BTC, it's real money for you. And it's your right to know how it's being kept safe.
Cryptocurrency is actually considered by many to be an extremely secure form of banking with all its privacy measures in place. What is called cryptography technology is used to keep coins and transactions secure with special coding. This blockchain technology is recognized by most as being far more secure than other digital transactions like online banking or even e-wallet transfers.
It's all so secure that if you lose your Bitcoin password, there will be no way to retrieve it. So make sure to keep it somewhere you can find it if needed, because due to the privacy and security layers it cannot be reset. And without your password, your Bitcoin will be as good as gone. Not to scare you of course, but it's an important point to know.

Beyond the inherent security of crypto as a currency, to keep things extra secure at Stake, you can also opt-in for two-factor authentication, aka 2FA. This is done by
going to My Account > Settings > and Security
when logged in.
There, under the Security tab you'll see a QR code and address on your screen which you'll simply need to copy to your authenticator app. Then each time you make a transaction, you'll be asked to confirm it, double checking that you're the right person accessing your cash.
Betting with Bitcoin at Stake
Stake, as you know, is a crypto casino. As such, your banking – as in deposits and withdrawals – can be done in the cryptocurrency of your choice. And so is your betting. That means you can place wagers in any one of the cryptocurrencies available, depending on which one you used to fund your account.
To help you better keep sight of the size of each bet you want to place, since cryptocurrencies like Bitcoin can fluctuate extensively in their exchange rate, you can also see the value of your bets in euros, dollars, or yen instead.
As for how to bet in cryptos, there's also zero learning curve involved when it comes to playing crypto casino games. All the games function in the exact same way as at other online casinos. There is just the added advantage of being able to bet in Bitcoin, Ethereum, or whichever crypto you're using. It's all simple and intuitive as it should be.
Stake games you can play with Bitcoin and other cryptocurrencies

The big benefit of gambling at Stake is that you can play ALL
Stake casino
games using crypto. That is the entire catalog of over 2,400 casino games, including
almost 1,000 crypto slots
. This makes Stake one of the biggest and best options for crypto gaming around.
These games include jackpot slots, bonus slots, bitcoin slots, high volatility slots, and low risk slots. In other words, crypto slots for any budget and style of play. Plus, there are slots for different tastes and moods with almost unlimited themes from the cute and cuddly Bonus Bunnies to the sexy Bonus Pop Twerk, adventurous Book of Dead, and rather sweet Honey Rush slots.
Powered by world class software, you'll find top of the line titles from awesome developers like NetEnt, Play'n Go, Pragmatic Play, Spinomenal, Playtech, and many more.
The live casino is also fully crypto optimized meaning you can gamble on live casino games using BTC or whichever coin you please. To spell it out, that means live crypto roulette, live crypto blackjack, and even live crypto gameshows like Deal or No Deal thrown into the mix. And of course there are also fully crypto compatible roulette, crypto blackjack, crypto baccarat, and other crypto table and card games available at your fingertips – all from the same awesome casino developers.
Plus, there's crypto sports betting at Stake, from the same wallet to round out the offering amazingly well. This gives you an opportunity to bet on an unbelievable number of contests and competitions, covering just about every sport out there, with competitive odds and markets to boot.
For the ultimate in convenience, all crypto games can be played either from desktop or your mobile device. Yes, you read that right, at Stake there is totally awesome crypto mobile gambling too. And the vast majority of games can be played for free, as well as the obvious real money bets. So if free crypto slots are something you've been seeking, we are super excited to tell you that Stake has them too!
Special Stake crypto games
Playing crypto casino games is always awesome. But you know what's even more awesome about Stake? Here you've got special, unique games you won't find anywhere else. Like absolutely nowhere.
And they come in two categories. The first is the exclusive Stake crypto casino games. These are games created by the big-time developers, but only available to Stake players. That's the kind of casino Stake is, that it's able to negotiate such deals.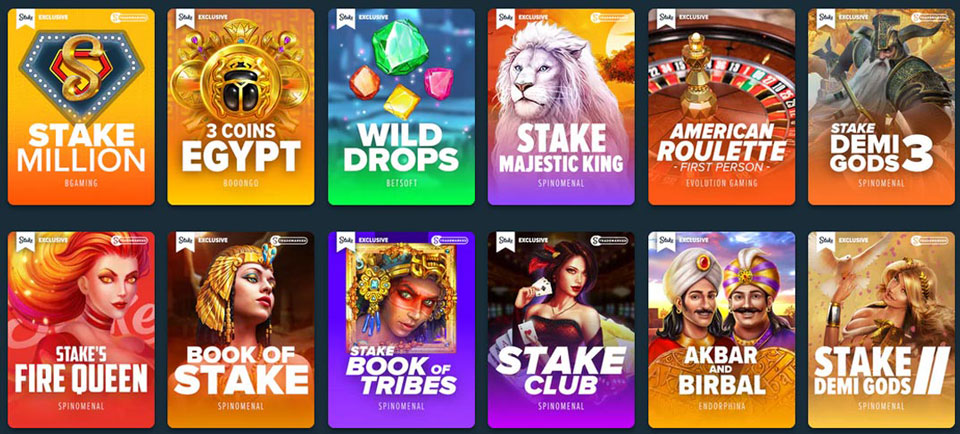 At last check there were three Stake exclusives: Stake Million from BGaming, Jurassic Park from Microgaming, and American Roulette First Person from Evolution Gaming. Some of these games are developed especially for Stake, while others simply make their debut at Stake before they become more widely available. The list as such is subject to change, so it's always worth a click through the Stake Exclusives section every now and then to see what's up.
The other special Stake category is the Stake Originals tab. This is where you'll find amazing games developed for crypto play, and only available at Stake. Bitcoin betting doesn't get much better than that!

There are currently 16 original Stake games and they are:
Stake Keno
Stake Wheel
Stake Roulette
Stake Diamonds
Stake Blue Samurai
Stake Slide
Stake Video Poker
Stake Baccarat
As if there weren't enough reasons to choose Stake over any other crypto casino, these Bitcoin gambling games definitely seal the deal.
Stake provably fair algorithm for provably fair games
Since we're talking about crypto gambling and games here, it's worth a moment to discuss how payouts actually happen. Or more specifically, how you know game results are fair and that wins and losses aren't rigged. Because crypto involves your hard earned cash, you would rightly want to know that there are no hidden tricks.
We can tell you two things. All Stake games are from top developers, as we already mentioned. And Stake is a fully licensed and registered online casino. Both of these things require a random number generator (RNG) in order to operate, demonstrating fair outcomes to each and every game round.
But crypto gambling has another advantage in the fairness realm to which Stake also subscribes. And that is what is called Provably Fair games.
This is a pretty complex system that ensures through algorithms that each round of every game can be proven to have been completed untampered. Not only that, it is a visible process which you can check yourself.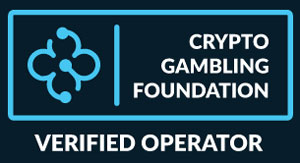 To better understand the Stake provably fair game concept in full, you can always read up through the Stake Fairness link onsite. There you can see through example exactly how fairness is calculated, plus where and how you can check each game's open source results.
The bottom line is that crypto gambling, with its provably fair algorithms, is actually considered a step above the rest in terms of the fairness equation. And there you have yet another reason that makes Stake so great.
A few final words
Now that we have covered all the details that StakeFans might possibly want to know about the basics of Stake crypto gambling – in particular the ins and outs of banking and wagering – it is time to get back to the matter at hand. And that is gambling at our favorite crypto casino, Stake.
Armed with this new knowledge it should now be easier than ever to get the most out of every session, making Stake gambling even more fun and fulfilling.