Plinko Gambling Game – A Stake Crypto Original
One of the reasons we love Stake so much is because of its long list of original games. And one of those original games we love most is Plinko.
You know, that legendary game from the Price Is Right television show? Well if you're like us, and have spent years watching The Price Is Right hoping today was the day that a contestant got to play, you will absolutely love the fact that now you, yourself, can play Plinko whenever you want and as often as you want! And, here's the clincher, at Stake, for prizes far bigger than the $50,000 top wins on the television show.
All you have to do is log in to Stake casino and click on the Plinko game to get started. Game play is intuitive, and highly customizable, even in terms of your risk level. Plus, since this is a crypto casino, you get the unique chance to play awesome Plinko even in BTC.
Sound interesting? It is! Plus, it's fun and potentially really profitable, which is also a huge win.
How the Stake Plinko Crypto Game Betting Works
Playing Plinko at Stake is super simple. And it's really quite intuitive, though it's worth a walk through to help you get started.
So basically it works like this. Open up the Plinko game on Stake by clicking on the game icon on screen. Once you do, you'll see a pyramid on the main board that resembles an arcade game, with a bunch of dots across the lines, and some brightly colored numbers with multipliers at the bottom.
To the left you'll find the game functions which include: 'Bet Amount', 'Risk', 'Rows' and the bright green colored 'Bet' button you push once you've set the other fields. As you might imagine, the 'Bet Amount' field is where you set the amount of money you would like to wager on your current round of play.

The 'Risk' field – and this is a pretty unique feature of Stake – is where you essentially set your odds. You can go for low, medium, or high. Low risk means increased probability of a win, while high risk makes a win less likely, but more profitable. Which is better is up to you and your own budget and appetite for, well, risk :-).
The final field to consider in Plinko play is the one labelled 'Rows'. This is kind of like activating paylines for online slot machine. Basically, you choose between 8 and 16 rows, and the game board will adjust in kind. This too, by the way, will influence the volatility of the game, which is why we said Plinko is quite cool in its level of customization.
How to Win at Plinko
Once you click the 'Bet' button a chip is then released to meander its way between the pins (i.e. the dots on screen), and ultimately land in one of the pockets at the bottom of your screen.
The space in which it falls is the prize you win. This can be a multiplier that is a fraction of your bet (which means a loss) or one that is many times higher than your bet (which equals a win).
Once the chip is released there is really nothing for you to do except watch the action unfold in great anticipation of what fate will bring, as it bounces its ways down the pyramid of pegs, and ultimately into the prize pocket.
This randomness of course is extremely fun and delivers great thrills to those who appreciate the format. And it's backed by the Stake provably fair game promise, with the option to double check each round's results yourself via the algorithms if you'd like. In other words, the epitome of fair.
Plinko Betting Limits and Max Wins
As you know, Stake is a crypto casino and works with 8 different crypto coins including Bitcoin, Ethereum, and Litecoin. You can also bet in fiat currency values like dollars or euros, so the betting limits and maximum win range depend on which of these you're using.

Tip:
When you have the Plinko game open, look to the bottom left corner of your screen, click on the little clog icon, and then the 'Game Info' link. Here, under the 'Limits' tab you can see the full list of maximum bets and top prizes per currency available.
While we won't cover every single option, here's a nice indicator of what you'll find.
| Currency | Maximum bet | Maximum prize |
| --- | --- | --- |
| | 100 BTC | 10 BTC |
| | 1,000 ETH | 200 ETH |
| | 5,000 LTC | 2,000 LTC |
| | 2,000,000 DOGE | 500,000 DOGE |
| | 1,000 BCH | 100 BCH |
| | 1,000,000 XRP | 150,000 XRP |
| | 10,000,000 TRX | 1,500,000 TRX |
| | $200,000,000 | $200,000 |
| | €200,000,000 | €200,000 |
Please note: If the bet you make exceeds the maximum profit for the game, that round will be rejected with an appropriate error message to reflect this.
---
 
Just note, while these were the max limits listed on Stake at last check, they could actually be subject to change, because as you know, crypto exchange rates can fluctuate wildly. So really the best thing to do is check yourself, which is super simple by following our tip above.
Also, if you're wondering about minimum Plinko bets, they are basically the lowest decimal you can go. That means, Plinko has a low entrance barrier and is a good option for those looking for penny bets.
Try Plinko Risk-Free
Is Plinko right for me you might ask? Good question and one many a Stake player might ponder! Well, all we can tell you, is from our experience, there are tons of StakeFans who absolutely love this game. We didn't get to writing this article incidentally that is. Rather, we have been hearing so many of our friends raving about it, that we wanted to make sure no tried and true Stake fan missed out.
But since any casino game is a matter of taste, you can also get started by playing Plinko for free to decide for yourself. That's right. Stake lets you play free Plinko so you can try out the game before you move on to real money bets. Incidentally, another reason why we're so very fond of Stake.
Just note, to play Plinko for free, simply set the 'Bet Amount' field to 0 (as in zero) and click the 'Bet' button to release the chip. You won't win anything of course, but you also won't lose anything. So if you want to play a few rounds just to check things out, or even if you're looking to kill some time without spending any cash, free Plinko is a great option to know about.
Stake Plinko Features
As a fairly simple arcade style game, there aren't too many features to the Plinko game. There are no free games to win or bonus rounds to play. It's mostly setting your bets and go. That being said, there are a few things to point out.
---
➥ Variable Risk Management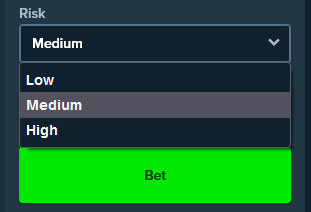 Essentially, there are actually two ways you can control the level of risk playing Stake Plinko. And they're not just theoretical when you set them, as you can actually see the game board shift each time you do.
One way to modify your odds, as we mentioned above is by adjusting the game's 'Risk' field, and the other is in your selection of the number of rows you would like to play. A tweak to either one of these, by the way, affects the other.
For example, if you choose 8 rows and low risk, your highest potential win will be 5.6X your bet. If you choose 8 rows and high risk, however, you can win up to 29X your bet if you land the chip in one of the corner slots. And if you opt to go for high risk and the maximum number of lines, being 16, you can win a full 1000X your bet, i.e. the game's highest prize multiplier.
Lower risk, of course means better chances of winning, albeit less money. Higher risk, on the other hand, is where the big payday could fall. Which is right for you is really a game of fine-tuning and personal taste, though we generally recommend something in the middle to get the best of both worlds.
---
➥ Auto Play Function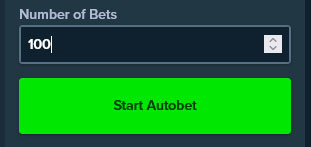 Although most of us on the StakeFans team like to bet round by round, there are certainly players out there who appreciate the auto play format.
If you're of the latter mind, then you'll be happy to know that Stake Plink has this feature, which is found under the 'Auto' tab. Just look to the top left corner of the game screen, i.e. beside the betting fields, to click and open it.
All you need to do is fill in the fields as you would in regular play, and set the number of consecutive rounds you'd like to trigger. Just remember, you will be making the same bet amount, on the same number of lines, and at the same risk level repeatedly, so make sure you have the bankroll to accommodate this.
---
What Do We Love Most About Stake Plinko?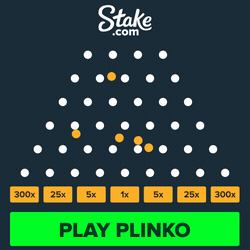 Again, game preference is a personal matter. So we all have slightly different reasons for being attracted to a certain style. Still, most Plinko fans will tell you, they enjoy the simplicity of the game, which in a way is about as random as slots, but gives you a different look and feel for some variety.
Another reason why we love Plinko, of course, is the potential for big prizes. This is especially true at a Bitcoin casino like Stake, where you can win up to 1000X your bet, which is a whole lot of money. And the game mechanics, we'll also add make it fun as you can see the board auto adjust to show you potential payouts, as you tinker with the number of rows and risk level you'd like.
By the way, it's not just ordinary folks like us who love Plinko. The legendary streamer Trainwreckstv is a huge fan, in no small part due to his famous multi-million dollar Plinko win.
The Plinko Game from Hacksaw Gaming
By now it shouldn't be too hard to see why everyone just loves Plinko. Of course the game's popularity hasn't gone unnoticed by software developers. And in 2023, Hacksaw Gaming released a version on Plinko as part of its Dare2Win series, which is Hacksaw's own take on various crypto arcade games.
You might rightly ask, what is the difference between Stake Plinko and the Hacksaw Plinko game? Because at first sight, it all looks pretty similar. You get the 3 different risk levels – low, medium and high, and you can set how many rows of pins there are, ranging from 8 to 16.
So, as gambling pros will tell you, a game is much more than its looks and basic structure, but it's also about volatility and the payouts. These things directly affect how much you can win. And this is where things differ between Stake and Hacksaw Gaming's Plinko.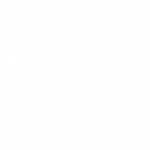 While both will give you the option to adjust volatility through the risk level settings, the Hacksaw version will give you
a lot more range
, with different multipliers. You're also looking at a much
higher max multiplier
in the Hacksaw Plinko at 3,843.3x compared to 1,000x in the Stake version. On the other hand, Stake gives players significantly
more flexibility with bet size
, with min bet starting at just $0.01 and a much higher max bet.
Differences between Stake and Hacksaw Gaming Plinko
We put together the differences between the two games below. As you can see for yourself, each has its own advantages.
| | Stake Plinko | Hacksaw Plinko |
| --- | --- | --- |
| Min. Bet: | $0.01 | $0.10 |
| Max. Bet: | $200,000,000 * | $100 |
| Max. Multiplier: | 1,000x | 3,843.3x |
| RTP: | 97%-99% | 88,20%-98,98% |
| Risk Levels: | 3 | 3 |
| No. of Pin Rows: | 8-16 | 8-16 |
* This is just the theoretical limit. The max bet actually depends on the max win allowed at Stake Plinko, which is currently $200,000. If you put in anything higher, the game will automatically ask you to put in a lower amount. If Stake changes the max win, then the max bet to the game will also change.
---
As the table shows, Stake Plinko gives you more flexibility and has a better RTP. To give you an understanding on how this all plays out in the nitty gritty, take a look at how the multipliers are distributed between the two games.
Stake Plinko (16 rows, high risk level)

Hacksaw Gaming (16 rows, high risk level)

What you see here in how the multipliers are distributed is that with Stake Plinko, there are 5 boxes where you may lose – remember, you need a multiplier above 1x for it to be a win. In the Hacksaw game, there are 7 boxes where you can lose, although the rest of the boxes come with higher multipliers. From a probability perspective, that means it's harder to win in the Hacksaw than in the Stake game. But that 3,834.3x multiplier from Hacksaw is definitely tempting!
Can I play Hacksaw Plinko at Stake Casino
The short answer to this is unfortunately no. Although Stake carries loads of awesome slots from Hacksaw, like Wanted Dead or a Wild, Stack'em, Chaos Crew and Dork Unit, the casino doesn't have Hacksaw Plinko for now. We asked their customer service rep about that, and it seems that's just what it is. But of course should this change we'll definitely update the info here.
How Does Crypto Plinko Compare to the Gameshow?
If you're a little on the older side like some of the StakeFans team, you may have had the pleasure of watching Bob Barker in the early Plinko days on The Price Is Right. Apparently, Plinko, which was actually inspired by pachinko, is the most popular game on the show – which says a lot. Having made its debut in 1983, many viewers, as much as contestants, were absolutely thrilled when this game segment was revealed. So how much greater is it that you can now play Plinko online whenever you choose?
Which is actually point one to consider in our comparison. That is, that online Plinko is always available and you don't have to wait for a segment that pops up once in a while. Also, obviously, online Plinko means you get to be the player, rather than a viewer, or the rare contestant who is called to "come right down". Which means, in other words, you get the prizes, not some lucky other person.
The other main difference is that in the TV version of Plinko, contestants got one chip, and could win up to four more by getting pricing questions right. The crypto version, on the other hand, features one chip per round, which actually speeds things up.
And finally, there is no crypto Plinko host. It's just you against the machine, with no accompanying narration or fans in their seats. That being said, if you'd like, you can feel to activate chat to sort of get some accompaniment.
Oh sorry, and yes, one more thing. Stake Plinko offers far bigger prize potential than the original game which was capped at $50,000 per contestant – which would universally be seen as a big advantage.
Is There a Working Plinko Strategy?
While some games of chance have strategy involved (like online blackjack), Plinko does not. That's because Plinko, unlike blackjack, is not a skill-based game. At least not in terms of the outcome. That means, you cannot really do anything to affect where the chip will land.
This lack of strategy, for some, is actually a big part of the game's appeal. That is, they can simply set their bet and wait to see where fate falls. On the other hand, it is not entirely true that there is no Plinko strategy. That's because, as outlined above, there is actually a fair bit of forethought advised when it comes to setting your bets, as you can choose your odds to a large degree, as well as the winning potential.

So if winning is important to you, regardless of the sum, then you should go for a low
number of lines
accompanied by a low risk level. And if you want the bigger prize amounts, you should adjust upwards in kind.
Our Final Assessment of Stake Plinko
Whether you're a tried and true fan of the Price Is Right, or this is the first time you've heard of the format, we can tell you Stake Plinko is a definite winner. The game is simple. The potential for thrills is great. And there are excellent prizes up for grabs for those who bet right. Or if that wasn't a clear enough endorsement, Stake crypto Plinko is definitely worth playing – whoever you are.
"If you're looking for big thrills and bigger profit potential than Stake originals like Dice, Mines, or Crash, then Plinko is definitely your game. With no learning curve and a whole lot of thrills, online crypto Plinko is a unique joy not to be missed."
Article:
Plinko Gambling Game – A Stake Crypto Original
Stakefans.com