MONOPOLY Live – A Classic Board Game Turned Crytpo Gambling Sensation
Do you remember lazy Sundays at home with the family playing – or fighting – over the MONOPOLY board? There was always someone who bought everything and never traded. The memory for most, however, is generally a positive one. And maybe you even had a family that managed the negotiations better, with fewer fits or tears from the little ones.
Well nowadays, Mr. Monopoly has come a long way from his 1935 Parker Brothers incarnation, and even his more recent Hasbro board game days. There are all sorts of iterations on the theme out there. The one that we undoubtedly like best is MONOPOLY Live from Evolution Gaming – which, as StakeFans we are happy to say, can also be played at our favorite crypto casino. So what is it about?
How to play MONOPOLY Live
There is a certain degree of overlap between the board game and the Evolution live game version since it was developed with Hasbro, but there are also quite a few significant differences. In many ways, Monopoly Live is actually more similar to its inspiration, and that is Evolution Gaming's incredibly successful Dream Catcher game. Like Dream Catcher, this is essentially a game show style of play. There is a host that guides you through the action, keeps the conversation flowing, and the giant vertical wheel spinning.
Instead of buying properties, what you need to do here is predict which segment the wheel is going to land on. In the main part of the game, or what is called the money wheel game, you bet on 2 to 4 "rolls" of the wheel to qualify for a bonus round. In addition to your fellow players in this live, real time game, you will find Mr. Monopoly himself sitting alongside. He's always ready and waiting to jump in on the action should the need arise – that is when a bonus round is triggered.
Other familiar elements of the board game include the randomly dispersed 'Chance' segments on the wheel, which can reward you with extra instant cash or multipliers. There are also segments labelled '2 Rolls' and '4 Rolls' respectively, which launch the augmented reality, 3D bonus game, starring Mr. Monopoly.
The graphics are really cool, and there are all kinds of Monopoly elements worked in to give it a complete themed feel. The betting amounts, for example, are shown in familiar Monopoly money notes.

Hint:
We are not the only ones that simply love this game. MONOPOLY Live has won multiple prestigious awards including Gaming Intelligence's Game of the Year in 2020 and EGR's Game of the Year in 2019.
What is so appealing about this game?
If you are wondering why you would want to play Monopoly Live, we would counter with the question, why not? Like we said, this game combines a few of our favorite elements including live casino, crypto gambling, and classic board game play. How thoroughly unique is that?
It also has a live host, which gives the game its interactive feel and helps you feel like you are actually a contestant on a television game show, which is quite neat on its own. And like we mentioned, the animation here is absolutely incredible, with the compelling 3D elements of the bonus round making it all the more fabulous.
Needless to say, there are the big winning opportunities, which at up to $500,000 is way above the average online slots or roulette prizes. And unlike the board game, you do not need to drive other players to bankruptcy in order to win. In fact, more than one person could technically win at a time, and we can all cheer in a win-win situation.
Special game features
Monopoly Live is in and of itself special. Seriously. It takes one of the most popular board games of all time and gives it a modern, yet still familiar twist that engages players the world over. But since we know our StakeFans readers want to know, we will just point out a few of the things that we love best about this game, though we are sure that in no time you'd have figured these out too!
3D Bonus Round
While the main game on the wheel is fun, the augmented reality bonus round is really the cream of the crop here. Once triggered, Mr. Monopoly gets up from his chair and enters a 3D Monopoly board that is jam packed with multipliers, cash prizes, and more.
His walk to riches, playing on the game board theme, is set in motion by a pair of dice. Once launched, you will find familiar Monopoly lore like the Chance card, Community Chest, GO slot, houses, hotels, and even the Super Tax and Jail.
Just remember if you haven't bet specifically on the '2 Rolls' or '4 Rolls' options in the money wheel part of the game, you won't qualify to reap the rewards of all this excitement, though you can still watch, which is also pretty fun.
Localized versions of the game
Licensed in over 103 countries, and available in over 37 languages, the Monopoly board game is truly an international hit. The live game show version, picks up on the theme, to an extent, with its board available for your viewing pleasure in German, English, and Italian to date. Convenient for international players.
Bet on all
Can't decide where to place your bets? No problem. Click the button labelled 'Bet On All' under the different wagering options, and you will have all of them covered. This not only reduces the stress of making a choice, but it also increases your odds of landing on a winning space.
How much you can bet and what you can win
While playing Monopoly Live at Stake casino is always fun, we are guessing you want to win something too. So what are the stakes and what can you reap? Well, to start bet sizes can range from $0.10 up to $5000 per bet.  This game is great for those who are risk averse as much as it is for high rollers.
By the way, since you are banking at Stake in digital coins, you may be wondering why Bitcoin, for example, isn't a betting option. From our understanding, that would be an internal mechanism of the game. But rest assured, whatever you spend or win will be subtracted or added to your balance in your chosen cryptocurrency.
---

Also note, another international player friendly aspect of the game is that the currency options available for playing include USD, EUR, JPY, CAD, RUB, IDR, INR, and a handful more. So the USD we quoted is just for convenience sake. Whichever of these fiats you choose will just be converted in kind.
---
As for how much you can win playing Monopoly Live, the top prize is 10,000X your bet or $500,000. That makes it a pretty stiff competitor for many progressive jackpot games out there in terms of potential prize size.

Tip:
Want to see your minimum or maximum bet range during play? Or payouts for any type of bet? Have a look at the Monopoly Live paytable by clicking on the tiny thumbtack icon in the upper left corner of the game screen.
Where to find MONOPOLY Live
Wondering where to find MONOPOLY Live at Stake casino? No problem. Click on the 'Casino' link in the left navigation of the website, then 'Live Casino' and scroll down from there on the page that opens up.
Alternately, simply type the words 'Monopoly Live' into the site's search bar to go straight to the game. Actually, we found just "Mono" to be enough for the site search to auto fill with what we were looking for. In any event, it is super easy to find.
Play Monopoly Live for free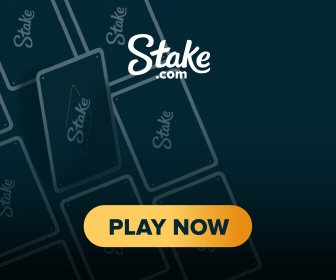 Although Stake allows you to play most games for free, including its hit original crypto games like Plinko and Mines, the live gameshows are not available for free play. This makes sense, since the action is taking place in real time with a live host and other players in on the game. Free play would kind of just interrupt.
As such, if you were looking for risk free Monopoly Live play, then we suggest one of two things. You can log in to the game and simply watch, like you would any TV game show to get a better sense of how it works. Or, if you want to practice, you could make $0.10 minimum bets to get a true feeling of the game mechanisms.
In either event, in order to gain access to the game, once you click on the thumbnail, you will need to press the green 'Real Play' button to commence. You don't actually have to place a wager or even need to have money in your account to enter. So don't be thrown off if you're looking for a 'Demo Mode' button, or fear that you are somehow wagering simply by clicking this link and watching the game.
Cryptocurrencies you can use to play at Stake casino
Just to reiterate what we wrote about the betting limits and max wins: while these fields are shown in-game in the fiat currency of your choice, when you are playing at Stake, you are ultimately betting in crypto. This can be Ethereum, Dogecoin, Bitcoin, TRON, EOS, or more. Whichever you deposit with is what you will have available in your casino wallet. This is what you will be using for Monopoly Live bets too.
The only difference is that onscreen you will see the bets in your fiat of choice, whereas in your balance it will be calculated based on your crypto conversion. Don't worry, it is super simple. And there are onsite calculators to help you out if you want to visualize things. Plus, you can always turn to support if you have any questions.
Monopoly Live mobile availability
Last but not least, we bet you are wondering if Monopoly Live can be played on mobile. Absolutely. Monopoly Live is fully mobile compatible. This means that you can play it on your tablet or smartphone of pretty much any make.

So if you were searching Monpoly Live Android or iOS, know that you are good to go. An Apple iPhone, Samsung Galaxy, Google Pixel, OnePlus, and many more popular models will definitely work. That means you can easily play Monopoly Live anytime, anywhere, in bed, or on the go.
Of course some would say that live gaming is better on a bigger screen. And who are we to argue? Since the interactivity and real casino experience are part of the appeal, we would agree the bigger the better. But many people also enjoy crypto live mobile play, and we can understand why they may be attracted to the convenience.
Top 5 Monopoly Big Wins
What StakeFans think of MONOPOLY Live
And that in a nutshell is Monopoly Live Dream Catcher Edition. Brought to the world of online casinos by the masters at Evolution Gaming, and made all the better at Stake with crypto betting options, this is by far one of the most exciting titles on the market.
Hosted live around the clock by an engaging presenter, the game is chock full of an insane level of action. Complete with superb 3D animation in the bonus round, this is an amazing experience every time. Whether you are a nostalgic fan of the original board game, or you are simply looking for a new dimension in your Stake crypto gambling, we are pretty sure you are going to be wowed.
Article:
MONOPOLY Live – A Classic Board Game Turned Crytpo Gambling Sensation
Stakefans.com