Stake Enhanced RTP Slots – exclusive design and improved odds
When it comes to online entertainment, Stake casino undoubtedly stands a cut above the rest. It has long established itself as the best crypto casino around, with flexible banking, an awesome repertoire of games (including its much-coveted crypto originals), and the long list of casino streamers who call it "home".
And now, with its roster of enhanced RTP slots, our favorite online crypto gambling site has landed another coup, further setting itself apart from the competition with unique titles developed exclusively for Stake casino (and its players) by the leading software developers at Pragmatic Play.
What are Stake enhanced RTP slots?
Basically, as the name implies, these  games programmed by Pragmatic Play offer improved RTP values. That is, a higher return to player. Return to player, of course, being the percentage of waged funds paid back to customers.
Every casino game – whether played online or at a bricks & mortar establishment – has an RTP. For online slots, specifically, while of course the RTP varies between games, that number is usually anywhere from say 94% to 97%, with 96% generally considered the average.
Enhanced RTP games, with their higher payout rate, instead have a return to player of at least 98%, with some going as high as 98.01% and 98.02%. And this, most importantly, isn't a coincidence. It is done by design with the higher RTP built in, so you know each time you choose one of these games, there is a slightly higher chance of hitting a win.

Available only at Stake, you can find these games listed under their own tab in the site navigation, marked under the
'Games' section as 'Enhanced RTP'
.
As for betting range, so you can get a sense of the budgetary demands, we'd say 20 cents to 1,000 dollars applies to almost all machines, with Bison Spirit being an exception, as it requires at least 40 cents per round wagered here.
Enhanced RTP video slots games preview
How are these slots different from other Pragmatic Play games?
Needless to say, when you visit Stake casino, the new Enhanced RTP slots from Pragmatic Play immediately catch the eye. They not only have their own section, listed as 'Enhanced RTP', but also titles reminiscent of the brand's most prominent online slot machines. So when you see them, you might do a double-take.
For example, Gates of Olympus has evolved into Gates of Heaven here, while The Dog House Megaways game is called The Dog Mansion Megaways in the improved version. A slight twist that only the most experienced players might spot.
Beyond familiar names for the slots themselves, Pragmatic Play has also opted to build on its legacy, by maintaining many of the well-known symbols that have made each game so distinct – again, with an ever so nuanced twist.
For the most part, the studio has slightly adapted little details, to spice things up, like the main character used as the wild in The Dog House Megaways slots, who is now wearing a hat in the new version.
So, to summarize we'd say that three things are different in total, in this new slots line:
The names of the games
The odds of winning
And a fun enhancement to the design
Other than that, game mechanics, ways to win, and the bonus features – including wild cards, free spins and multipliers – are carried over from the originals as well.
What do increased RTP values mean to me?
Just to reiterate – since this is the core of the matter – the big difference, of course, that Stakefans will likely notice, is the striking difference in the RTP value. The payout rate has been boosted to around 98% on enhanced slots, with some even slightly more. This is in comparison to the typical payout rate used in the original Pragmatic Play template, which averages around 96.5%.
Spelled out (i.e. doing the math), this means that an average of 1.5% more winnings are paid out to Stake players in enhanced RTP games.
An exclusive slots series based on these popular Pragmatic Play originals
As we already mentioned, enhanced RTP slots are based on well-known Pragmatic Play games in terms of their theme, as well as their functions and odds of winning. Of course, in the case of the enhanced games, with a boost to the odds in particular.
Some of the titles in the exclusive Stake slots series can be immediately associated with the prominent originals, while others may only be recognized by the most experienced players. To help you out, and point you in the right direction if you already have a preferred theme or favorite game, we've put together this side-by-side list, showing the enhanced RTP game and its corresponding inspiration.
| | |
| --- | --- |
| Enhanced online slot name | Pragmatic Play original |
| Gates of Heaven | Gates of Olympus |
| Sugar Twist | Sugar Rush |
| Slushie Party | Fruit Party |
| The Dog Mansion Megaways | The Dog House Megaways |
| Sweet Fiesta | Sweet Bonanza / Hot Fiesta |
| Jewel Bonanza | Gems Bonanza |
| Madame Mystique Megaways | Madame Destiny Megaways |
| Wild West Bounty | Wild West Gold |
| Lucky Phoenix Megaways | 5 Lions Megaways |
| Bison Spirit | Buffalo King |
As  you can see, some of the new releases at Stake differ ever so slightly from their original. So you'll get an almost identical spinning experience. Others, however, differ more dramatically, for example the Sweet Fiesta game which elegantly combines two of the most popular Pragmatic Play originals (Sweet Bonanza + Hot Fiesta). And sometimes, symbols from several games are connected in a slightly modified form.
But overall, if you've ever played online slots, whichever you choose, it will all be easy to figure out. And if you've played any of the Pragmatic Play originals, even extra fun!
The 3 best Stake enhanced RTP slots
Since we're all Stake fans here, and we're guessing you're turning to us for our opinion as much as the latest news, we've done our homework and gone through all of the new games for you. The truth is, of course, that they're all great! Seriously. We love them!
But since we like to give recommendations where we can, we'll just zero in a bit more on what we consider the best of these new slots games. Needless to say, favorites are always going to be a matter of taste. But from our experience, the top 3 that we've chosen pass the test on all fronts, and are well-loved pretty much universally.
Gates of Heaven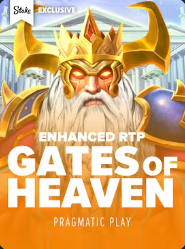 Pragmatic Play connoisseurs will immediately be able to spot the similarities between the new enhanced RTP Gates of Heaven game and the much-beloved Gates of Olympus slots that came before. That's because, in fact, this is the Stake enhanced slot's template. And while the action's moved on to heaven, there is still plenty of ancient Greek lore worked in to the animation – plus a rather riveting soundtrack, we'll just add.
A solid experience overall, you can win up to 5,000X your bet value when playing Gates of Heaven, with growing multipliers during ongoing free spins. Budget friendly, the betting range is between 20 cents and 100 EUR per round. And the chance of winning the feature can be doubled with a bonus buy. What's really decisive in choosing this version over the original, of course, is the RTP value, which comes in, at you guessed it, no less than 98%.

For comparison: Competitors like Lucky Dreams casino offer the original Gates of Olympus game with an RTP rate of 94.5% . That is 3.5% less than the enhanced RTP that Gates of Heaven slots offers. Other than that, however, the
symbols are identical except for the big Zeus
. And the same goes for the
free spins, scatters, tumble and bonus buy features
. Depending on the operator, this can also include the purchase of free spins at the Gates of Olympus. So really, in the new version what we can say is that the main difference is the better odds – which we'd imagine is reason enough to
make the switch
!
The Dog Mansion Megaways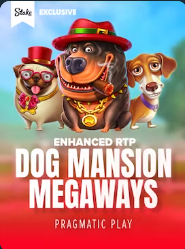 In this new spin on the original, you can already tell that things are getting bigger and better, with the upgrade from "house" to "mansion".
True, The Dog House Megaways slot machine is already an immense hit, leaving little to be desired with its super fun graphics and overall play. But now, with each spin of The Dog Mansion Megaways slots you can win up to 12,000X your stake. And best of all, the RTP is upped from a "mere" 94.55% to no less than 98% – giving you a significant advantage in terms of potential payouts here. In fact, it's a full 3.45% higher chance at a payout over the long-term, which is by all estimates, quite significant.
Other than that, once again, Pragmatic Play has opted for the well-known game concept, including the astounding 117,649 ways to win associated with the Megaways genre. Also found in The Dog Mansion Megaways game are free spins and the wild dog house symbol. But in the latest version, the main dog and one of his buddies have been given hats for a fresh new look, while the remainder of the symbols have stayed the same, so you'll enjoy a strong flavor of familiarity as well.
Sugar Twist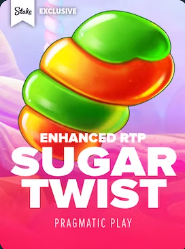 Looking for something sweet in your slots play? Then you likely already know the original Pragmatic Play Sugar Rush online slots game. And you'll for sure want a taste of the new enhanced RTP Sugar Twist slots too!
Candy for the eyes, and the pocket, it's all about the sweet treats, in bold and beautiful colors, that can potentially pay out big! The backdrop of a yummy candy land ties the two versions of the game together for a familiar feel. But some of the symbols have been replaced, for a slightly different experience, including the gummy bears of Sugar Twist, which are now candy-shaped (Swedish?) fish. Also in the latest version, instead of the original's candy rocket, there is a green-red swirled gum drop that acts as the scatter symbol, which helps launch the much-coveted free spins.
As for the real goodies – as in what you can gain – in the Sugar Twist option you'll get a top prize of up to 5,000X your bet, the potential for explosive multipliers up to 128X, and of course, that impressive, boosted, 98% RTP (compared to 95.5% on the similarly themed Sugar Rush game).
Enhanced RTP slots – available exclusively at Stake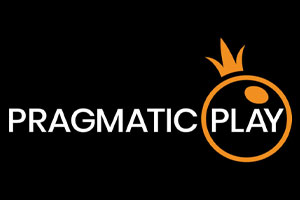 The real coup in the new enhanced RTP online slots line belongs to Stake casino, which has landed an exclusive deal with their developer, Pragmatic Play. And by exclusive we mean that at the moment, our beloved Stake is the only place where you can play them, putting this already leading crypto casino even further above the competition in terms of unique selling points.
This of course, isn't the first time Stake, and the world-renowned developer have formed a special partnership, to our advantage. Rather, if you're a true Stake fan, you may recall that in May 2022, the casino also implemented a unique live gaming lobby dedicated to the developer's live games as well.
Now, with a complete series of online slot machines that are characterized by their increased payout percentage, however, this new venture is an absolute sensation for the industry. And we couldn't be more excited! And impressed!
So while the main principles, themes, and graphics are largely retained, we say kudos to Pragmatic Play on the development end, coming up with a whole new concept to keep us entertained – and programmed for higher payout rates, for even more frequent cash wins. And thanks for partnering with Stake, and in a way, acknowledging that we're the best players around too.
With an RTP of up to 98.02% Stake.com gives you a higher chance of winning
The release of this new slots series may have come as a surprise even to the most die-hard Stake fans. And with good reason. We also asked ourselves how it's possible to increase the payout rate of the well-known Pragmatic Play slots in such a way? But so it is. 98% (plus) is not just a boast, rather it's a fact on the ground.
And if you're doing the calculation and thinking, well a 2 to 4 percent increase in the RTP isn't all that generous at first glance, then join us in taking a step back and thinking. If you extrapolate this value to the number of wagers (and overall amount) that the operator takes in, when upping its payout rate even by a few percentage points, there is actually a significant difference of at least several tens of thousands of euros (or dollars) more that Stake now pays out in contrast to its competition.
One explanation as to how Stake is able to absorb this cost, we've heard, is relatively simple. And that boils down to the fact that as one of the very few online casinos that deals predominantly in crypto currencies for banking (i.e. deposits and withdrawals) Stake is already inherently saving itself quite a bit of money on transaction fees, which it does not incur. Just another advantage of crypto gambling, and a smart operator, cleverly paying its savings forward, we'd say.
Other casinos, to put it in perspective, of course keep things convenient with other real money payment methods, such as credit cards and bank transfers. But, while free to the customer – usually on both ends of the transaction to stay competitive with industry norms – the operator, like any "store", has to bear the fees, usually coming in at several percent points. This, in turn, affects the payout rates, which must be reduced for the casino to be sustainable over the long term. So again, this savings on typical fees allows Stake to accommodate customers with higher payout percentages, which means more money available to win.

Obviously, as good intentioned as Stake is, it couldn't have fulfilled this form of payback on its own. And so a much-deserved shoutout again goes to the
brilliant developers at Pragmatic Play
for their ingenuity and ability in fulfilling this concept. But most importantly for choosing to put their faith in Stake, so we can continue to enjoy the most-cutting edged gambling options available in cyber space, hands down.
Simple gameplay is retained every step of the way
A big plus in this new line of games is that players who have already gained experience with Pragmatic Play slots, such as Gates of Olympus, will face zero learning curve. Slots, mind you, are easy to navigate in any event, whatever the game, with maybe slight differences as you adapt to different types of payline setups and the likes.
But in this case, the mechanics of the enhanced RTP slots are identical to that of their role models. The only thing to decide really is how much you want to bet per spin. This differs slightly between the various games, but is well within reason for any budget, and can be adjusted as you like, once all the reels have stopped, before a new round begins.
Sometimes there is also the possibility to place bonus bets. This can either increase the chance of activating a feature, or allow for free spins to be used without waiting. And the Bonus Buy feature is an option that can be activated just as easily, as players are already used to it from other Pragmatic Play branded titles.
Ultimately, the one and only difference you will experience as a player is that enhanced slots promise more frequent pay outs. And even with that, there's nothing more for you to learn or do, as all games are controlled by random number generators (RNG) and are therefore played without any special strategies required. In other words, random luck fun, just as slots should be.
Enhanced RTP slots vs. the original games
Enhanced slots FAQs
Since enhanced slots are new as a concept, it's possible you still have some questions. While we assure you they are super simple (and fun), this short FAQ section should do the trick, so you go into your first spin fully informed and ready for a win!
1.) What does enhanced RTP mean?
In the case of the new online slot range developed by Pragmatic Play and available exclusively at Stake, the term enhanced means as it does intuitively. That is, increased, augmented, or boosted are all synonyms that would work. In other words, simply put, the RTP is higher than it would be on other online slots, and certainly the corresponding slots upon which each of the games in this line is based.
Practically speaking, this means that instead of the 94-96% RTP range that the original versions of the games boasted, the enhanced RTP slots have a minimum 98% RTP. And that, simply put, translates into higher odds at spinning a win.
Other than that, there is no difference between enhanced and traditional online slots in terms of actual game play. So choosing them is only to your advantage..
2.) How can the RTP of enhanced slots be increased?
Casinos, to be frank, are well-oiled machines; at least the successful ones. Everything they do is done with great thought and attention to detail. This includes crunching the numbers to find that sweet spot that is able to both attract (and retain) players, while keeping the casino profitable. It's a business after all, and it has to make money.
What Stake has done, therefore, while generous, is more a matter of repurposing. Or more accurately, taking certain savings and passing them on to players to keep them happy.
These savings, of course are those associated with the casino being one that is crypto first. The blockchain and other payment methods after all work inherently differently. So while traditional online casinos will generally absorb transaction fees for things like credit card deposits, at crypto casinos the onus of transaction fees is borne solely by the player.
While these fees aren't that much for a single customer to absorb, for a busy online casino like Stake, the difference can really add up. And in the case of Stake, instead of pocketing that surplus, they've cleverly chosen to budget it into the increased payout rate demanded by the new enhanced slots.
In the end, really everyone wins, as this is an excellent marketing ploy for Stake, while we as players get virtually unheard of odds in our favor – making us even more loyal to the casino, its originality, and its clear dedication to our enjoyment.
3.) Which online casinos offer enhanced slots games?
If you are looking for Pragmatic Play slots with an optimized RTP value, we will save you the effort and already point out that they are exclusively available at Stake. No other online casino has this special range of games, which on the one hand offer more attractive payout rates and in addition, continue to entertain with a familiar spin on some of our favorites, thanks to slightly modified symbols.
To pinpoint these games from the thousands of awesome slots at Stake, just look under the site navigation for the link to 'Enhanced RTP'. This will open up a page on your main screen with all the available options – currently 10, but likely growing.
By the way, for more online games you won't find anywhere else, you can also have a look under the 'Stake Exclusives' tab. And of course, there is the 'Stake Originals' category, with its awesome selection of homegrown, completely unique,  online crypto games.
4.) Who developed enhanced RTP slots?
While Stake is the only casino where you can actually play these new enhance RTP slots, it is the innovative developer Pragmatic Play which brought them to life.
Trusted by millions of players since it burst onto the online gambling scene in 2015, Pragmatic Play creates amazing games for casino, bingo, and the sports betting fans out there. Perfect for desktop or mobile play, the games come in multiple languages, are compatible with a wide range of currencies, and are certified and licensed by multiple industry governing bodies.
All and all, it is safe to say, that a Pragmatic Play title is going to be one that you can trust, not to mention enjoy, as this developer has all the bases covered – from extreme safety straight through the very best in entertainment.
This inherent value and expertise, of course, is continued in the enhanced RTP line. So you know that when Pragmatic Plays says an RNG with a 98% payout, that's how the games actually play out, fair and square.
5.) Can I try enhanced RTP slots for free at Stake?
Not only can you play enhanced RTP slots for free at Stake, we actually totally recommend it! And why not?
Free play is the perfect way to get a feel for any new game, risk-free, before moving on to real money bets. So even if you are making as minute a move as from The Dog House Megaways game to The Dog Mansion Megaways (and will notice very little difference beyond a well-placed hat or two, and the upped RTP), it certainly can't hurt to enjoy a few free rounds to get an absolute feel.
And best of all? No registration is required to test the machines developed exclusively for Stake. Just visit the site and spin away, for free, as long as you like.
6.) Do all of these new games have the same 98% RTP?
When it comes to the enhanced RTP line of slots, the promise is of a payout rate no less than 98%. In fact, most of the games come in at exactly 98% RTP with a few distinct standouts being Madame Mystique Megaways at 98.01%, and Wild West Bounty slots at 98.02%.
So if a decimal point or two is important to you, then these should be your top picks. Otherwise, you can go with our recommendations above, or play through all 10 slots, and decide for yourself. Whichever route you choose, we're sure it will be fun!
Bottom line – Do enhanced RTP slots live up to the hype?
So after all that, you might be wondering if enhanced RTP slots are really that good, or even anything special at all?
And all we can say is, yes! They are excellent online slot machines, with fun and engaging graphics, wonderful themes, easy play, and higher odds than any other slots on the market. And what could be better than that?
Article:
Stake Enhanced RTP Slots - exclusive design and improved odds
Stakefans.com