Crazy Time Live Casino – An Insanely Awesome, Action Packed Live Crypto Game
If you have been a fan of online gambling for many years, you may recall, like us, the advent of the now super popular format, live gaming. These live games, in the context of online casinos – as we like many fans the world over quickly discovered – are a great way to add interactivity to your gambling, giving you the feeling that you are seated in a live casino, with the dealer/croupier and other players.
But while it all began with live roulette and live blackjack games, the format quickly evolved. And now, the popularity of these table and card games has (for many players at least) been surpassed by a preference for the unique gameshow style live games. The provider Evolution Gaming is considered by most to be the best in the business in creating such titles, complete with fun themes and engaging hosts. And amongst its repertoire of these exceptional games is something called Crazy Time.
If you have heard of it and are looking for a place to play it, know that Stake casino is ideal. Because here you get the added advantage of enjoying Crazy Time, but with your preferred digital currency at stake. If you have yet to try it, however, or simply want to read what our experts have to say in terms of Crazy Time tips, then let us help you out with a full description of what this game is about, how it is played, and why it has such fantastical appeal.
How to Play Crazy Time Live Casino
If you were wondering about the name of the game, the word crazy actually has multiple meanings here. That is, the game play is pretty insane in terms of the amount of action, and so are the winning possibilities. But it is possible it may be confusing at first, or at least a bit intimidating to new players, so let's flush it out.
Basically, as we said in the introduction, this is a live casino game. So what that means is that there is a host that will be ushering you through the activity. This person, in other words will be spinning the slots, spinning the wheel, and chatting with you all the while, which in and of itself helps you follow what is going on.
The actual mechanisms of the game involve two things. And they happen simultaneously, essentially, influencing each other. That is, you might say, this is the ultimate combo game in which a slots machine and a wheel (somewhat reminiscent of a roulette wheel actually) are spun together!
The slots machine is where you get multipliers, and the colorful wheel has the numbers (1,2,5, and 10) marked on it as well as the four bonus rounds you can bet on for your chance at these.
During main game play, you place your bets on the wheel. Once all bets are placed, the host pushes the big red button, and the slots and wheel are spun together. If you chose a winning number, i.e. where the wheel landed when it stopped, then you win the prize where the flapper is pointing to. This can be entrance to the bonus round you bet on, or a prize amount calculated according to the corresponding multiplier on the top slot machine.
The level of action is pretty wild with a lot of things happening at once. So if adrenaline is your thing, this game may be it! Also, of course, there is the big winning potential with multipliers of up to 25,000X your bet. And that is how to play in a nutshell.

Note:
You can bet on more than one number and more than one bonus round at a time. This will obviously increase the amount of money you need to wager, but it also increases your odds of winning. The choice is up to you.
What is the big appeal of the game?
There are a number of things that are appealing about this game. Of course, the fact that it is a live casino title, with a host interacting in real time, already makes a big difference in that it successfully creates the feeling that you are an actual participant on a television game show. And what can beat that, right? So fun!
But it also has some unique distinctions compared to other popular live game show titles. For example, the most popular comparison is to Dream Catcher. And in fact, this game was directly built by Evolution Gaming as a response to the popularity of its Dream Catcher game. The appeal of Crazy Time over its predecessor, of course, is the added action involved in the four bonus rounds you will find here, as well as the corresponding slots and multipliers that play an important role in the game.
Plus, there are its basics. The set is bright, colorful, dynamic, and full of winning opportunities – especially those bonus rounds!
Special game features
While everything about this game is essentially special, the biggest feature here, many would say, are the four unique bonus rounds, that each add a totally new twist to your play. And they are:
➥ Cash Hunt bonus game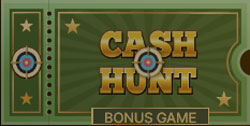 The Cash Hunt bonus round is basically experienced as the name sounds, in a manner similar to the carnival shooting style game of old. Each participant is on the hunt for the biggest possible multiplier. How they find it, is a matter of luck as you shoot your canon at one of the 108 random multipliers hidden in the shooting gallery on the big screen. What you shoot, is the multiplier that you win.
---
➥ Coin Flip bonus game
The simplest of games, yet always fun, this bonus round is again as it sounds. A toss of the coin is all it takes. The only difference here is that instead of say heads or tails, it is blue or red that you need to choose. Each color has a multiplier associated with it (dynamically generated before each flip), and you get the multiplier according to which color you bet on, and needless to say, which side the coin landed on.
---
➥ Pachinko bonus game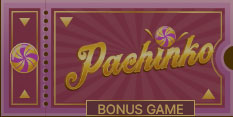 For fans of Plinko, the Pachinko bonus round is definitely the most fun of the lot. If you win entrance into this one, get ready for a large wall, with a maze of physical pegs into which the host drops the puck. Where it lands is the multiplier that all participants get, unless it is a 'Double' slot, which means the puck is dropped again, with the ability to keep the action going repeatedly until a multiplier is won, with a maximum prize value of 10,000X.
---
➥ Crazy Time bonus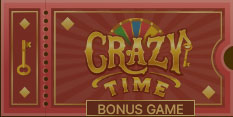 Finally, there is the game's namesake, the Crazy Time bonus round itself. And what it is, is sheer madness! It begins when the host opens the big red door to grant you entrance to an insanely fun virtual world, with a huge money wheel inside. Each participant then chooses either a green, blue, or yellow flapper and the host once again presses the big red button to begin. Once the wheel stops, you win the multiplier indicated by your flapper color. Or if it lands on the 'Double' or 'Triple' wedges, your multipliers are double or tripled, and the wheel is spun again, with only those players who bet correctly continuing with the action, for up to a 20,000X multiplier max.
---
How much you can bet and what you might win when you play
Understanding the principles of your bets is also important so you know how much you can wager, and possibly win. To help you out, if you would like to see the Crazy Time paytable at any point, just look to the top left corner of your screen when you have the game open, and click on the little thumbtack icon.
There you can see the minimum and maximum bets accepted for this game, being $0.10 up to a whopping $15,000 (or the corresponding amount in the currency you choose) for the main round of play, or $0.10 up $2000 in each bonus round (except the Crazy Time bonus round which allows for a max bet of $1000). You can also, of course, look to the paytable to see the corresponding pay outs, which for main play is a max of 10:1 (when betting on the number 10), or $500,000 in the bonus round.

In other words, this is:
a) a very flexible game with a wide range of betting options for different budgets and
b) there is a whole lot of winning potential, if you guess right.
BTW: You may have noticed that we quoted the bet and win limits in dollars as opposed to Bitcoin. That is due to the game's internal mechanisms. Rest assured, this is just a value in proportion to your crypto bet, from your Stake wallet. When you look at your balance, it will needless to say be converted accordingly in kind.
Where to find Crazy Time at Stake casino
At Stake, you will find Crazy Time like Monopoly Live and other games under the 'Live Casino' tab in the left navigation. To begin playing, click on the game icon, and proceed from there. Just like you would with any game.
Alternately, you can always use the Stake search bar, which you will find at the top of any page on the website, and type in the term 'Crazy Time' there to find it.
Play Crazy Time for free
For those familiar with the live casino genre, one thing you may have noticed is that these games are never available for free. Unfortunately, this includes Stake. That is, you cannot play Crazy Time for free at Stake, or anywhere else. That makes sense really, though. Since, if you think about it, when have you ever visited a land based casino and been able to get in some practice rounds on the house?
Like a Vegas casino, however, what Stake does let you do, is watch. That means, if you want to get a feel for how to play, you can watch Crazy Time in action for as long as you like, live, without having to place a bet. You can do this for learning purposes, by the way, or as we often find ourselves doing, just for fun. Because like any game show, it can be just as compelling to watch.
Once you have gotten the hang of how it works, you can get in on the game with a real money Bitcoin bet (remember to deposit first!). And if you need help, remember, as a live game, there is a chat function, which means you can always consult with other players or the presenter in real time on pretty much anything. Or, of course, you can contact Stake support.
Crypto currencies you can use to play Crazy Time at Stake
While it is true that you can play this exceptionally fun live game at many other online casinos out there, as StakeFans we all know that there is one place a cut above the rest to play. And that is Stake. Bottom line, that is because here you have the distinct benefit of being able to bet on Crazy Time in Bitcoin, Ethereum, EOS or any of the other digital coins the casino works with.
Just remember, like we pointed out above that the actual bets on this particular title will be displayed in US dollars (or one of the dozen or so other fiats you can choose). This, however, is only within the game. The currency you will actually be using is one of the eight digital coins Stake works with (i.e. whichever you hold in your wallet). So essentially you are betting with crypto here.
Crazy Time mobile availability
Needless to say, Crazy Time is 100% mobile compatible. That means, just like you can enjoy it from your PC, whether on your work laptop or at home at your desk, you can log in and play live on any Android or iOS device. And we will just point out again, at Stake this mobile Crazy Time option is made all the better as it translates into mobile crypto Crazy Time play.
Crazy Time winning strategies
With all of that outrageous action, you may be wondering what you can do to improve your odds of winning. Or more accurately, is there a worthwhile Crazy Time strategy to try out?
So, the reality is, this is a true gambling game, which means there is a massive element of luck to it all. That being said, since the wheel in this game is somewhat similar to a roulette wheel, there are players who have tried to employ roulette strategies here too. We haven't found that particularly useful, but you can feel free to try.
Other strategies we have seen touted, include those which help you gain access to bonus rounds. So, if this is something you want, you may choose to go with small wagers on each of the four bonus round wedges on the wheel (i.e. all of them) to essentially hedge your bets.
Also, and this is another small tip, in our opinion, while betting on the numbers can be profitable, the bonus rounds really are the big draw here. So if you are bothering to play, you might just want to go with those for a true taste of the game.
Top 10 Crazy Time Big Wins
What StakeFans think of Crazy Time Live
All and all, StakeFans, and loads of other players out there to be honest, absolutely love the Crazy Time game. It is, after all, with due reason that this is one of Evolution Gaming's most successful titles, and that is because it pretty much does all of the elements right. There is an engaging host, amazing action with the wheel and slots, and of course the mad action of each of the four potential bonus games.

If you haven't tried it yet, we recommend watching it risk free at Stake, so you can get a grasp of the mechanisms. Or since the minimum required wager is so low – with bets as little as $0.10 allowed – you really don't have much to lose. In fact, with all the entertainment on the table, you pretty much only have what to gain when you play Crazy Time at Stake.
Article:
Crazy Time Live Casino – An Insanely Awesome, Action Packed Live Crypto Game
Stakefans.com