Madame Mystique Megaways – Even More Magical Than The Original!
At StakeFans, we've been steadily working our way through the new enhanced RTP game line developed by Pragmatic Play to see what it's all about. And if you haven't heard of it yet, it's about time. Because there's a lot of hype around these slots, and rightfully so!
Created exclusively for Stake casino, and its players, these awesome slots, based on leading titles, are an exciting way to increase your odds with a guaranteed RTP of at least 98%.
Amongst our favorites, no doubt, is the enchanting Madame Mystique Megaways game. Building on the stellar reputation of the Madame Destiny Megaways template before it, this ramped up version is an ideal combination of a familiar format with some perfectly placed embellishments.
So what you've got are innovative features including unlimited free spins and the possibility of multiple wins on a single spin. Plus, you get a chance at an astounding 200,704 paying combinations on every round, and prize money up to 5,000X your bet! And with the option to wager anywhere from 20 cents up to 1,250 CAD, it's a great choice for cautious slots lovers as much as the high rollers out there – making the sum of its parts not too shabby at all.
As for entertainment value, the wonderfully mysterious atmosphere of the original Madame Destiny game continues to permeate here, with a soundtrack that will get your heart pounding, with attractive graphics and symbols and scenery to match.
But what really sets it apart, is no doubt, the boosted RTP coming in at 98.01%, which if you're keeping count, is even higher than the "standard" 98% of the enhanced RTP games across this series, like The Dog Mansion Megaways or Gates of Heaven video slots. And that alone is definitely something that's enthralling – and worth exploring first-hand.
How the Madame Mystique Game Works
Overall, the mechanics of Madame Mystique Megaways are like any standard slot – if you could call a Megaways game that, mind you.
In terms of basics, there are 6 reels, each with up to 7 symbols of varying sizes, and up to 8 rows. This varies, of course, because of how the Megaways mechanism works. And since there are always new formations, the number of possible combinations also changes between rounds, giving you no less than a phenomenal 200,704 ways to win. And since it's an enhanced RTP slot, a much better than average chance of winning – that being 98.01% to be specific.
To get started, of course, you'll have to go to Stake, as that's the only casino where this exclusive title is offered. After that, all you have to do is click on the game to open it up, spin the reels, and the built-in random number generator will create your results, displayed graphically on screen. And of course, calculate any wins automatically for you, because realistically even the most mathematically inclined amongst us couldn't possibly figure out 200,704 paylines and their intricacies.
The only things, really, that you need to do are to choose your bet amount per spin – anywhere from $0.20 up to $1,250 a round – by clicking the '+' and '-' buttons, then set the reels in motion by clicking the arrows spin-button, and watch as fate unfolds.
Madame Mystique herself serves as the game's wild, working her magic by substituting in for any symbol on the reels, except the crystal ball, which is the game's scatter symbol. Wins are paid out from right to left, and require at least 3 matching symbols for a prize (with the exception of the lizard, which only requires two of a kind).

While we'll cover all the basics of the different features, associated symbols, and the types of wins that you'll encounter over the course of this review, note that you can always dig even deeper by clicking the circled 'i' symbol at the bottom left side of the game screen (when you open it to play) for even more details. And just a side note, though we generally like the soundtrack for creating ambience, if you're more of a silence lover, you can always click to turn off the sound – and still enjoy the same great play.
Madame Mystique Megaways Demo
Curious what all the fun is about? Fortunately, the slot can be played for free. While you obviously won't win any cash playing Madame Mystique Megaways in demo mode, it's a great way to get a taste of the game. Which is why we've conveniently located it right here, so you can already give it a try.
Like what you saw? Then better than free play, is the real deal – which you can enjoy at Stake! So if you're ready now to see what fortunes this enhanced RTP slot has in store for you, you can go ahead and hit that top prize, or any amount of cash winnings, with those awesome odds by clicking the button below.
Where to play Madame Mystique Megaways
As to where you can play this awesome new slot, we'll give you a hint. Since we're all Stakefans here… You got it! At Stake casino. And by this we don't mean Stake amongst others.
Rather Stake casino has landed an enormous coup, and in partnership with Pragmatic Play, have launched not just Madame Mystique Megaways onsite, but the entire enhanced RTP line, exclusively. Just another advantage of belonging to the world's #1 crypto casino we'd say!
Madame Mystique Megaways Payout
Wondering how much you can win when you play Madame Mystique Megaways? As a reputable developer, Pragmatic Play always lists these kinds of specifics in each game's pay table, including the potential max win spelled out in dollars and cents per combination. To give you an idea of how that looks, however, relative to your bet, of any size, we've put together this handy, at a glance chart of winning symbol combinations, and their potential pay outs, for you.
Symbol Minimum payout Maximum payout
| | | |
| --- | --- | --- |
| Symbol | Min. Payout | Max. Payout |
| | x1 | x20 |
| | x1 | x3.75 |
| | x0.3 | x2 |
| | x0.3 | x1.5 |
| | x0.2 | x1.25 |
| | x0.2 | x1.25 |
| | x0.2 | x1 |
| | x0.1 | x1 |
| | x0.1 | x1 |
| | x0.1 | x1 |
Want even more bang for your buck? Beyond this chart of the basic symbols, you can actually win 100X (!) your bet if you hit 6 crystal ball scatter symbols in a row. At the same time, the fortune teller's crystal ball plays an important role in the bonus features. But more on this, and the associated free spins feature, below (i.e. keep reading ).
Madame Mystique Megaways Bonus Features
If 200,704 ways to win and a 98.01% RTP aren't special enough on their own, we'll just add that there are also a handful of user-friendly features built into these slots as well.
True, they're nothing new. But they definitely up the thrill factor as much as your winning potential. And they include:

---
While you're likely already familiar with these features from other online slots, it's always worth a short walkthrough to better explain. So here goes…
➥ Wild Symbols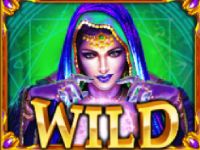 Wild symbols in the form of the fortune teller (i.e. Madame Mystique herself) appear in the base game, as well as in ongoing free spins. The only exception is the first reel. That is, they will only potentially appear on reels 2 to 6.
Like any symbol, landing a wild is completely random. And as in any game, the wild works to replace any other symbol to help form a winning combination. Bonus symbols, in particular the crystal ball scatters, are the exception, and cannot be exchanged for wilds.
If a combination is supplemented by the wild card, its value is doubled. And a constellation of several wilds leads to the addition of the respective multipliers. All and all making them a much-coveted commodity.
➥ Tumble Feature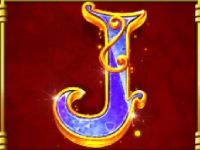 With the Tumble feature built in, the winning potential of Madame Mystique Megaways doesn't come to an end when the reels come to a stop. Rather, the tumble feature allows you to win multiple times, on a single spin.
Basically, if a combination is created, the winnings are paid out. Then the associated symbols dissolve, and new ones slide into the grid from above. If another combination is formed, then again they dissolve, and new symbols tumble in, on and on, until no more combinations are formed. Once this happens the total winnings are added to your balance. And you've essentially enjoyed multiple cash wins on a single spin.
➥ Free Spins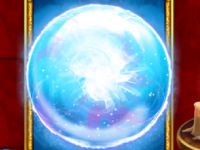 When 3 or more crystal balls appear on the screen, it's your lucky day as the Wheel of Fortune opens. Marked with slots listing the number of free spins you can win and the associated multiplier, you'll then spin it to determine which you'll be getting (i.e. wherever the wheel lands).
The number of free spins available in this round are 5, 8, 10, and 12 respectively. And the multipliers are anywhere from 2X up to 25X. Whichever multiplier you land, by the way, is used on all of those free spins. In addition, should you be so lucky as to lineup scatter symbols in this round, you can win up to 100X your bet. And, doing double duty, should you hit 3 or more of those crystal ball scatters, you will retrigger the free spin feature.

Note:
For the free spins, Pragmatic Play has come up with an 
independent set of reels
 with attractive symbols. These free spins can be retriggered, indefinitely, meaning there is no limit on the number of free spins you can win per bet.
➥ Bonus Buy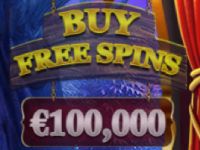 If you love free spins – and the limitless number you can collect here – then you may want to consider investing in this shortcut known as the buy free spins (or bonus buy) feature. The price? 100X your current bet. So if you wagered $1 that would be $100. And if you wagered $2, make that $200.
Sounds expensive? Depends on your budget and thirst for thrills. If you get a good spin on the Wheel of Fortune, and trigger another round, it could easily pay off.
➥ Double Chance to Win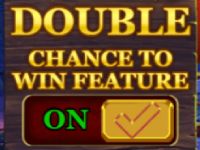 The ante bet feature as it's officially called, is also what's called the double your chance to win feature. And it does exactly what its name implies.
By increasing your wager by 25%, you gain the opportunity to double the odds of winning on the next spin. Of course that means you would risk losing more as well. So it's up to you which odds are better, for your style of play, appetite for risk, and budget.
---
Is there a Madame Mystique Megaways Strategy?
When possible, of course, us StakeFans are happy to share our tried-and-true tips. However, the reality is that there are generally no game strategies associated with slot games. And enhanced RTP slots are no exception.
That means, in terms of Madame Destiny Megaways strategy, all you can do is bet wisely and see what those random number generators deliver.
What is recommended, however, and can in a sense be described as a gaming strategy, is skillful bankroll management. So for example, if you know you have a tendency to get carried away, you may want to set a limit on how much you gamble, per day, week, or month. Then, once you reach that amount, stop. It's as simple as that.
Alternatively, some players prefer to set a max loss limit, which would work in the same way. You might also want to adjust your bet amounts between rounds, to accommodate either of those limits. Either way, you should always be paying attention to how much money you are spending and how much time you're investing, in any gambling pursuit.
Madame Mystique vs. Madame Destiny Megaways
Like all of Stake's enhanced RTP slots, Madame Mystique is based on a Pragmatic Play mega hit, namely in this case, Madame Destiny Megaways. As far as the basics and betting options go, both of these slots are pretty much identical, with a few minor differences.
For example, the two most valuable symbols from the original game, after the scatter crystal ball, have been replaced in the new version – so that instead of owls and cats, Madame Mystique users now encounter lizards and rabbits.
Other than that, there are no significant differences between the two slot machines, neither in terms of the background graphics nor when it comes to the basic paytable for different combinations. Both slots also feature the bonus buy for double the chance of winning.
--- The real difference, of course is in the payout ratio, with the original Madame Destiny Megaways boasting a slightly higher than average 96.67% RTP, while the new Madame Mystique Megaways has a payout rate of 98.01%, which is even high amongst the enhanced RTP slots line.
---
The Stakefans' Take on Madame Mystique Megaways
For fans of magical entertainment, Madame Mystique Megaways is a welcome alternative to the traditional fruit and other typically themed slots. And as an enhanced RTP slot, it even makes for an attractive pick over its inspiration, Pragmatic Play's original Madame Destiny Megaways slots. Also because you potentially have more chances at winning. But let's be frank, also because of the exclusivity factor – since the latest version is only available at Stake.
Bottom line, it's true both games have much of the same features, and there's a strong overlap in atmosphere between the two machines, from the graphics through the soundtrack. But with an improved payout rate, and some visual embellishments (the most discerning gamblers will certainly spot), we'd say Madame Mystique Megaways is worth a spin. And perhaps, may we dare say, even more so than the original.
Article:
Madame Mystique Megaways – Even More Magical Than The Original!
Stakefans.com