Sweet Fiesta Slot at Stake – Spin for Candys and Fruits!
Sweet Bonanza has been a huge hit, and Pragmatic Play has turned the party up a notch with the Sweet Fiesta slot at Stake. So Sweet Fiesta is the Enhanced RTP version of Sweet Bonanza, and that means you are pretty much looking at the same slot that you know and love, except now the RTP is better at 98%.
Enhanced RTP slots are a special deal between Pragmatic and Stake, which means that Sweet Fiesta, like other slots in this series, is a Stake exclusive. You won't find the game anywhere else. Unlike other Enhanced slots though, the game sees another key change, namely the max payout gets dropped from 21,100x to 5,966x. We'll cover this in more detail later on in this review.
Visually, a couple of the symbols also get brushed up with a bit more of a Mexican flavour. But all in all, the reels will feel very similar. You're still looking at a medium volatility slot on a 6 reel 5 row grid, packed with all the same awesome features that Sweet Bonanza is famous for, including the random multiplier that goes up to 100x.
How the Sweet Fiesta Game Works
As Stakefans we know that our favorite casino always a cut ahead of other gambling sites with newer and better offers for players. And in their search for something different and fun, Stake has partnered with Pragmatic Play to develop some exclusive slots. The idea is pretty simple. A selection of the most popular slots from Pragmatic Play will get a boost in their RTP so that it hits 98%, with the rest of the game remaining largely the same. Because if you have a winning formula, there's no real need to change it.
Sweet Fiesta is one of these games, along with others such as Gates of Heaven which is the Enhanced RTP slot version of Gates of Olympus. While most Enhanced RTP slots tend to keep the game specs the same as the original hit, Sweet Fiesta seems to deviate with a cut to the max win.
To play the slot, go to the Stake website, and then just type in the game's title in the search menu. Or you could look for the game in the Enhanced RTP tab in the menu. As far as real money gambling goes, you will need some cryptocurrency to play. However, if you don't have any you can just as easily buy some digital coins through the Moonpay option on the Stake website.
The slot itself is a 6 x 5 grid. There are no paylines and it's a pay anywhere game. To win, you just need a minimum number of the same symbols appearing on the grid. Pretty straightforward. As far as money issues go, the min bet is $0.20, and the max bet is $1,000. This does not include the costs of using the bonus buy option, should you decide to go that route.
Sweet Fiesta Demo
Sweet Fiesta Payout
As you can see in the paytable below, the slot has good payout potential. The hard sweets symbols are the high value ones, but the fruit symbols can really deliver too. You'll need a minimum of 8 of the same symbols before you start reeling in those coins. Unless you spin the Scatter symbol – that's the lollipop, which only takes 4 to pay out and also unlocks the Free Spins bonus round.
| | | |
| --- | --- | --- |
| Symbol | Min. Payout | Max. Payout |
| | x10 | x50 |
| | x2,5 | x25 |
| | x2 | x15 |
| | x1,5 | x12 |
| | x1 | x10 |
| | x0.8 | x8 |
| | x0.5 | x5 |
| | x0.4 | x4 |
| | x0.25 | x2 |
| | x3 | x100 |
Sweet Fiesta Bonus Features
The videoslot comes with all the popular features that made Sweet Bonanza the hit that is. That means you can expect these in this Enhanced slot version:

---
➥ Tumble

Every time you win, the winning symbols will vanish. Remaining symbols will "tumble" down. This makes space for new symbols to fall from the top of the reels to potentially give you another winning combination. Tumbles are unlimited and they only stop when you stop getting winning combinations.
➥ Free Spins
4 Scatter symbols or more will unlock the Free Spins bonus round. Each round has 10 free spins and 5 more spins are added whenever you spin 3 Scatters or more.
➥ Multiplier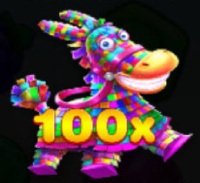 The multicolored donkey piñata is the multiplier symbol, and it only occurs during the Free Spins bonus round. Whenever you see the donkey, it will come with a random multiplier ranging from 2x up to 100x. And should have multiple donkeys, they will be added up altogether and then multiplied to your win at the end of the round.
➥ Bonus Buy or Ante Bet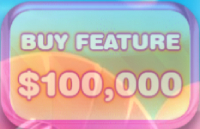 The Sweet Fiesta Bonus Buy is an Ante Bet option. By increasing your bet size by 25%, your chances of spinning a Scatter is increased. So for example, your $1 bet becomes $1.25 and it's important to remember that when it comes to payout, winnings will be based on a $1 bet size.
---
Sweet Fiesta vs Sweet Bonanza
When it comes to Enhanced RTP slots, most of them are just about a higher RTP at 98% and a new title. And you get that RTP increase with Sweet Fiesta just as you'd expect. However, it's important to point out that the 21,100x max win in Sweet Bonanza is no longer applicable in Sweet Fiesta. In Sweet Fiesta, it's quite a bit lower at 5,966x. Mind you, it's still a pretty high payout compared to most video slots. But if you're looking for those astronomical wins the original slot is famous for, we have to let you know that the max win has been lowered.
Is there a Sweet Fiesta Strategy?
We'll get to the point. Here are some of the things you need to take into account in building your strategy. You're looking at a medium volatility slot, just like in Sweet Bonanza, with the added bonus of a very high RTP. However, the max win that came from all those multipliers in the Free Spins bonus round is now capped. That means you can't directly import your Sweet Bonanza strategies into Sweet Fiesta.

What this means is that the
Free Spins round is less lucrative
than it was before. You need to up your value in your bet size so you can better capitalize on the base payout. Or to put it even more bluntly, we would increase the coin value rather than spending the extra 25% on the Ante Bet feature.
Other than that, all the usual gambling tips hold. And that is, try to plan your bankroll over a longer time frame. This is especially important to keep in mind with Enhanced RTP slots because many players assume they will make bank sooner with a 98%. But RTPs are a statistic based on the long run, so if you go out too fast in a sprint, you might go bust before the win comes in.
The Stakefans' Take on Sweet Fiesta
Sweet Bonanza is a really awesome slot, and we were very excited to see it come out as an Enhanced RTP slot in the form of Sweet Fiesta. We have to say that it's important to keep expectations in check here, because there's a significant difference in that the max payout in Sweet Fiesta is significantly lower. Whereas players loved the 21,100x in Sweet Bonanza, this is now down to 5,966x. It's still more than a very big win and better than many video slots, but nonetheless we feel that players should be aware of this difference.
Aside from that, Sweet Fiesta is a really awesome slot. As a medium volatility game with an exceptionally high RTP of 98%, the action and wins can be steadier than high volatility reels. We also love the straightforward mechanics, and the multipliers in the free spins round. Of course, you can also play the game for free in demo mode before making real money bets. So we highly recommend that you head over to Stake and check out this party!
Article:
Sweet Fiesta Slot at Stake – Spin for Candys and Fruits!
Stakefans.com