Lucky Phoenix Megaways – Exclusive Asian Slot Game
As a Stake fan, you've probably already heard of the enhanced RTP slot line our favorite online casino has launched. And if not, this is your chance, as our dedicated team has been steadily working our way through the lot, to share our experiences and pass on the best tips – since that's what our Stake loving community is for! This time we're excited to share with you our review of Lucky Phoenix Megaways enhanced RTP slots.
Based on the very popular Pragmatic Play 5 Lions Megaways game, the similarity is not necessarily obvious in the naming. But the overlap quickly becomes clear as soon as you open these two slots up, with well-known symbols and the style of animation – like the turtle, frog, and yes, lion – starring in each of these online slots machines. Plus, some of the best features have been carried over to the new exclusive Stake slot game.
However, in the enhanced RTP version as the title implies, the focus is now on the phoenix, the mythical bird that according to legend, rises anew from its own ashes. Persevering and constantly reinventing itself, perhaps you might say, like how some players may experience luck as it comes and goes. And here, should luck come, it would certainly be similar to a rebirth – as a lucky spin could change your life with nothing short of a cash fortune.
Getting there is fun too, so it's not all about the pursuit of wins mind you. And the many features are as entertaining as they are rewarding, thanks to great graphics and the likes, though free spins and multipliers help. Oh yes, and then there's that 117,649 ways to win. And the 98% RTP. Anything else you want to know before spreading your wings and hitting a mythological win? If not, we say, go play! Otherwise, keep reading until we've got you convinced.
How the Lucky Phoenix Megaways Game Works
For those new to the world of enhanced RTP slot games, we'll assure you that there is nothing new to figure out here. That is, these machines work exactly the same way as any other online slots, just with a higher return to player. That means you make a bet, spin the reels, and either win or lose.
That being said, there are some details to pay attention to in particular when playing Lucky Phoenix Megaways.
Basics
So for starters, this is a 6-reel game. Wins are paid from left to right for adjacent matching symbols. You need at least 3 matching symbols to form a winning combination, and can get the top prize for any given symbol with 6 in a row. In total, as this is a Megaways game, as the symbol sizes differ, the number of symbols across the reels can be as many as 7, and the number of lines similarly variable, thereby significantly expanding your winning options, with up to up to 117,649 combinations possible per round.

Tip:
Like in all Megaways games, glance to the
upper right corner
of your screen to see
the current round's Megaways
(i.e. the number of possible winning combinations for your current spin).
Bets
Bets are set by clicking the '+' and '-' signs by the spin button. Just note that there are two fields to fill in here: 'Bet' and 'Coin value'. Also that the bet multiplier is 20X. So if you set your bet field as 1 and your coin value as $.01, you will be placing the game's minimum bet of $0.20. To make a $100 bet, your bet field would be 10 and coin value $0.50. Of course, you can feel free to choose any value in between and up to the game's max of $1,250 per round (including the double chance to win feature).
Once you've placed your bet, click the spin button to see what fate will arise. If luck is on your side you can win up to 5,000X your bet. Then, keeping playing away at the same wager by continuing to click spin, or readjust your bet amount as you see fit. That's it. While super fun – and attractive thanks to the glowing graphics – this is essentially a simple video slots machine.
Lucky Phoenix Megaways Demo
Sound like a slots game that appeals to you? Why not give it a try right here with the free Lucky Phoenix Megaways game? It's perfect for getting a sense of the theme, as much as the bonus features (which we'll get to in a bit), with zero risk, and pure joy.
Lucky Phoenix at Stake Casino
Want to take things up a notch? Even better than free play is enjoying the real deal. And with Lucky Phoenix Megaways that of course means visiting Stake. That's because, like the full Pragmatic Play enhanced RTP line of slots, Lucky Phoenix Megaways is available exclusively at Stake.
As the #1 crypto casino around, in addition to offering completely unique games, it has the easiest and most convenient banking processes we've seen, with 20+ cryptos accepted and no limits on how much you can cash out.
Lucky Phoenix Megaways Payout
Born out of Greek mythology (or some would argue Egyptian), the phoenix has long been associated with a sense of victory and rebirth. And with each spin, you have the chance to do just that, or at least your casino balance does. Just how much you win depends on how many symbols you line up in a row, and which symbols they are, with the lion paying the most.
A complete pay table is of course available, where you can see both the monetary amounts as well as the special features of the game spelled out. But we've also put together this short summary, to give you a sense of the winning potential.
| | | |
| --- | --- | --- |
| Symbol | Min Payout | Max Payout |
| | x1 | x25 |
| | x0.75 | x5 |
| | x0.5 | x5 |
| | x0.3 | x2.5 |
| | x0.3 | x2.5 |
| | x0.2 | x1.25 |
| | x0.2 | x1.25 |
| | x0.1 | x1 |
| | x0.1 | x1 |
| | x0.1 | x1 |
---

Tip: With a built-in random number generator (RNG), this game is guaranteed fair with every round of play. And while it's interesting to note the paytable, you won't have to figure out the wins for yourself, as the game automatically does that for you, paying the highest winning combination on the same pay way, as well as any additional combos. So essentially you can win multiple times per single spin.
---
Lucky Phoenix Megaways Bonus Features
As for the bonus features – a main draw of any video slot machine – Lucky Phoenix Megaways has plenty packed in. Though none are unique, they certainly add interest to your play, as much as the potential for winning more cash.
The most obvious of these is the Megaways concept itself, giving you up to 117,649 chances of winning per round. Plus, some might argue the higher RTP of 98% is a feature in and of its own as well. But the ones we'll highlight are the ones worth a few words to better understand exactly how they work, so you know exactly what kind of good times you're in for. And they are:
➥ Wild Symbols
In Lucky Phoenix Megaways, the fiery wild symbols substitute for all symbols except the Ying Yang to form winning combinations. It can appear on reels 2, 3, 4, and 5.
➥ Wild Multipliers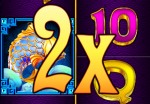 In addition to completing winning combinations, the wild here does double duty with a multiplier assigned to each one you land. Multipliers can be as low as 1X (which doesn't do much) up to 30X and even 40X your payday.
Even better, the more wild multipliers, the better, as more than one such multiplier can be applied per winning combination – really adding up the cash for your final prize.
➥ Tumble Feature
The Pragmatic Play tumble feature is something we StakeFans really love, so needless to say, we're thrilled to see it in this game as well.
For those not familiar with the concept, basically as soon as a winning combination is created and paid, the associated symbols are wiped from the screen, and new symbols drop into their place. If these form a winning combination, then you're in luck, as they too are wiped from the screen, and again new symbols fall into place. This feature continues until no new combos are formed, at which point you'll be paid in full for all your wins on that spin, and returned to regular play.
Theoretically, there's no limit to how many tumbles you can enjoy. Which means you can have a whole lot of extra wins on a single spin, without doing anything more!
➥ Free Spins Round
No self-respecting slot could keep us fully engaged without a free spins feature. And so of course, you'll find such a round here. Triggering it is actually easy enough, with just 3 Ying Yang bonus symbols required, anywhere on the reels.
Note: How many Ying Yang bonus symbols you land at the point of triggering will determine your initial win, so that:

3 bonus symbols pay 3X your bet
4 bonus symbols pay 5X your bet
5 bonus symbols pay 25X your bet
And 6 bonus symbols pay a whopping 100X your bet!
Before the bonus round starts (which is in addition to that aforementioned win), you will be prompted to choose one of 7 free spin options. Each option offers a different number of free spins alongside potential multipliers. The more free spins you get, the lower the multiplier will be, so it's up to you which factor is more important – a higher number of free spins, or higher multipliers. The range, by the way, is 6-25 free spins, and multipliers go from 2X up to 40X your win.
Before the round starts, you need to select one out of 7 free spins options:

Or, if you're feeling like a real gamble, you can choose the mystery number option, which will be randomly formed from the other available alternatives. In addition to all that, if three wilds are spun during this bonus round, you can trigger even more free spins, making this a seriously valuable feature!
➥ Bonus Buy Option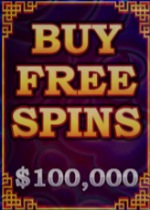 With the free spins bonus round being the most action-packed in terms of play, with significant multipliers involved, it is also where the big money can be made.
So if that's your goal – boosting your entertainment factor + winning potential – then why not skip ahead with the Lucky Phoenix Megaways bonus buy option? True, it's not cheap, with a purchasing price of 100X your current bet. But if luck is on your side, it could well be worth your while to buy free spins, and all the possibilities that they entail.
➥ Double Your Chance to Win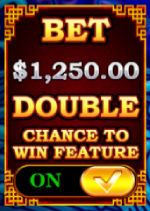 If good old gambling and the odds built into the game aren't speculative enough for you, this game also has what's called the double chance to win feature. This lets you double your odds at a fee of 1.25X your stake.
You can find this feature in the left-hand corner of the screen when you have the game open. Simply toggle the notch from left to right to turn it on. You'll see your bet amount updated in kind, and the RNG will do the rest, giving you random results with much better odds.
This feature, by the way, is how the max bet gets to $1,250, rather than the $1,000 you can find in the basic betting functions.
Is there a Lucky Phoenix Megaways Game Strategy?
Lucky Phoenix Megaways has the word "luck" in its name. In fact, that's all it takes to win. And although various tactics can be found if you scour the internet, realistically, they are useless in RNG games like this. So we won't bother leading you astray with any Lucky Phoenix Megaways tips. All we can say is that with an increased payout rate of 98%, a higher portion of the stakes flow back into the players' pockets, which is undoubtedly good news.
Beyond that the only strategy to employ really has to do with your own budget and attitude. For example, we highly recommend limiting how much money you're willing to wager on any given day, week, or month. Or perhaps more importantly, setting a loss limit, so you don't lose track of how much you're spending.
---

Speaking of losses, another common-sense recommendation is not to chase losses. So if you're having a bad day playing Lucky Phoenix Megaways, maybe try your luck on something like enhanced RTP Sugar Twist instead, or a Stake crypto original like Crash. Or maybe even simply take a break, and try your luck another day. Gambling is meant to be fun after all. So really that perhaps is the best strategy of all – that is, doing all that's in your power to keep it so.
---
The Lucky Phoenix Megaways Slot vs 5 Lions Megaways
Of course, as we mentioned at the beginning, Lucky Phoenix Megaways is a spinoff of the very popular 5 Lions Megaways game. And we left you hanging until now. But we didn't forget. So if you're wondering what ties the two together, here it is.
Looking at the two game titles, nobody would guess that Lucky Phoenix Megaways is a copy of 5 Lions Megaways. But in fact, both slots are based on the same design, with essentially the same symbols – with a few exceptions.
The fiery lion, for example, continues to be the top paying symbol in both games, but the number two phoenix of the original has been replaced by a golden pig. Other than that the frog, fish, and turtle respectively maintain their places.
The wild symbol is also different between the original and enhanced RTP version of the game, while the Ying Yang bonus round symbol remains the same. That being said, the special symbols in the free spins round are unique to each game.
Beyond the exact details of the animation, both versions of this Pragmatic Play slots have a similar look and feel, with the same basic colors, Asian atmosphere (for some reason), and a strong overlap in all the features.
Our Take on Lucky Phoenix Megaways Enhanced RTP Slots
Bottom line, we really like this game!
True, it may be one of the few from the entire enhanced RTP series that differs completely from its role model in terms of its name. Yet, the parallels to 5 Lions Megaways are unmistakable, with many of the well-known motifs and all the features found here. Which by the way, is a compliment, since that's such an attractive and engaging slot machine.
The big advantage that Lucky Phoenix offers, beyond some fresh graphics, is needless to say that bumped up RTP. While the original had a 96.5% RTP, here that's been enhanced to 98%, which is to say, more return to player.
Also, Lucky Phoenix Megaways is a Stake casino exclusive. And as StakeFans we know just how fun it is to play games that are available nowhere else. That, of course, being one of the biggest advantages of this top casino, that keeps on pampering us players with a truly unique experience, every step of the way. Giving us great gambling and the exclusivity factor we just can't help but love!
Article:
Lucky Phoenix Megaways – Exclusive Asian Slot Game
Stakefans.com